Fiat Punto: Using the manual gearbox
Fiat Punto Owners Manual
To engage the gears, press the clutch pedal fully and shift the gear lever into one of the required positions (the diagram is shown on the knob).
IMPORTANT The car can only be put into reverse gear when it has stopped moving completely. With the engine running, before engaging the reverse, wait at least 2 seconds with the clutch pedal fully down to prevent damage and grating of the gears.
To engage reverse (R) from neutral proceed as follows:
for 1.28V versions, lift the sliding ring (A) under the knob and shift the lever to the right and back;
for 1.3 Multijet versions, just shift the lever to the right and back.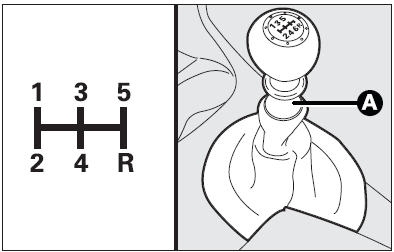 To change gears properly
you must push the clutch pedal fully down. It is therefore essential that there is nothing under the pedals: make sure mats are lying flat and do not get in the way of the pedals.

Do not drive with your
hand resting on the gear lever as the force exerted, even if slight, could lead over time to premature wear on the gearbox internal components.
Other info:
Seat Ibiza. Tailgate
Opening and locking The operation of the tailgate opening system is electric. It is activated by using the handle on the tailgate Fig. 50 Boot lid: opening from the outside Fig. 51 Closing th ...
Honda Fit. Devices that Emit Radio Waves
The following products and systems on your vehicle emit radio waves when in operation. Each of the above complies with the appropriate requirements or the required standards of FCC (Federal Commu ...
Peugeot 208. Failure of the remote control
To deactivate the monitoring functions: Unlock the vehicle using the key in the driver's door lock. Open the door; the alarm is triggered. Switch on the ignition; the alarm stops. The indi ...