Honda Fit: Audio System Basic Operation
Honda Fit Owners Manual
To use the audio system function, the ignition switch must be in ACCESSORY

or
ON

.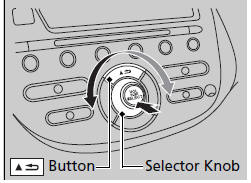 Use the selector knob to access some audio functions.
Selector knob: Rotate left or right to scroll through the available choices. Press


to set your selection.

button: Press to go back to the
previous display.
These indications are used to show how to operate the selector knob.
Rotate

to select.
Press

to enter.
Other info:
Honda Fit. Refilling Window Washer Fluid
Models without washer level sensor Check the amount of window washer fluid. Look for 1/2 mark on the reservoir. If the level is low, fill the washer reservoir. Models with washer level senso If ...
Seat Ibiza. Warning lamps
Overview of the warning lamps The warning lamps indicate a number of different functions and possible faults. Fig. 40 Instrument panel with warning lamps. Some of the items of equipment listed h ...
Seat Ibiza. Coolant
Coolant specifications Coolant is a mixture of water and at least 40% coolant additive. The cooling system must be filled with a mixture of water and at least 40 % of our coolant additive G 12+ o ...