Honda Fit: Wipers and Washers
Honda Fit Owners Manual
NOTICE
Do not use the wipers when the windshield is dry.
The windshield will get scratched, or the rubber blades will get damaged.
NOTICE
In cold weather, the blades may freeze to the windshield, becoming stuck.
Operating the wipers in this condition may damage the wipers. Use the defroster to warm the windshield, then turn the wipers on.
Turn the washers off if no washer fluid comes out.
The pump may get damaged.
Front Wiper/Washer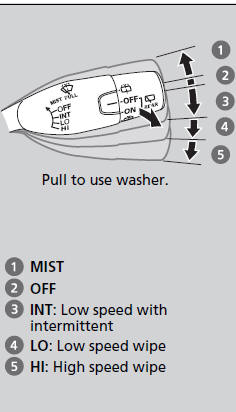 The windshield wipers and washers can be used when the ignition switch is in ON

.
■ MIST

The wipers run at high speed until you release the lever.
■ Wiper switch (OFF, INT, LO, HI)
Change the wiper switch setting according to the amount of rain.
■ Washer

Sprays while you pull the lever toward you.
When you release the lever, the wipers make two or three more sweeps before stopping.
Rear Wiper/Washer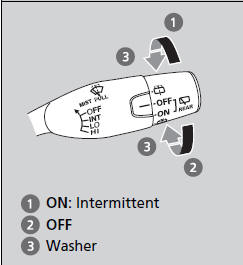 The rear wiper and washer can be used when the ignition switch is in ON

.
■ Wiper switch (OFF, ON)
The wiper operates intermittently after completing a few sweeps.
■ Washer (

)

Sprays while you rotate the switch to this position.
Hold it to activate the wiper and to spray the washer. Once released, it stops operating after a few more sweeps.
■ Operating in reverse
When you shift the transmission to


with the front wiper activated, the rear wiper operates automatically as follows even if its switch is off.

If the wiper stops operating due to any obstacle such as the build-up of snow, park the vehicle in a safe place.
Rotate the wiper switch to OFF, and turn the ignition switch to ACCESSORY

or LOCK


, then remove
the obstacle.
The wiper motor is equipped with a breaker that may stop motor operation temporarily to prevent an overload. Wiper operation will return to normal within a few minutes, once the circuit has returned to normal.
Other info:
Peugeot 208. Fuses under the bonnet
The fusebox is placed in the engine compartment near the battery (left-hand side). Access to the fuses Unclip the cover. Change the fuse (see corresponding paragraph). When you have finishe ...
Nissan Micra. Brake precautions
Vacuum assisted brakes The brake booster aids braking by using engine vacuum. If the engine stops, you can stop the vehicle by depressing the brake pedal. However, greater foot pressure on the bra ...
Peugeot 208. Indicator and warning lamps
Visual indicators informing the driver that a system is in operation, switched off or has a fault. When the ignition is switched on Certain warning lamps come on for a few seconds in the instr ...