Peugeot 208: Alarm
Peugeot 208 Owners Manual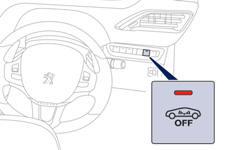 System which protects and provides a deterrent against theft and break-ins. It provides the following types of monitoring:
- Exterior perimeter
The system checks for opening of the vehicle. The alarm is triggered if anyone tries to open a door, the boot, the bonnet...
- Interior volumetric
The system checks for any variation in the volume in the passenger compartment. The alarm is triggered if anyone breaks a window, enters the passenger compartment or moves inside the vehicle.
Self-protection function
The system checks for the putting out of service of its components. The alarm is triggered if the battery, the central control or the wires of the siren are put out of service or damaged.
For all work on the alarm system, contact a PEUGEOT dealer or a qualified workshop.
Other info:
Renault Clio. Fitting a child seat, general information
Some seats are not suitable for fitting child seats. The diagram on the following page shows you how to attach a child seat. The types of child seat indicated may not be available. Before using ...
Skoda Fabia. Tyre service life
Fig. 133 Principle sketch: Tyre tread with wear indicators/Open fuel filler flap with a table detailing the tyre sizes and tyre pressures Fig. 134 Swapping wheels around The life of tyres ...
Honda Fit. Fuel Economy
Improving Fuel Economy Fuel economy depends on several conditions, including driving conditions, your driving habits, the condition of your vehicle, and loading. Depending on these and other co ...