Peugeot 208: Cruise control "CRUISE"
Peugeot 208 Owners Manual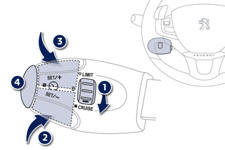 1. Selecting cruise control mode.
2. Decrease the programmed value.
3. Increase the programmed value.
4. Cruise control Off / Resume.
In order to be programmed or activated, the vehicle speed must be higher than 25 mph (40 km/h), with at least 4th gear engaged on a manual gearbox (2nd gear on an electronic or automatic gearbox).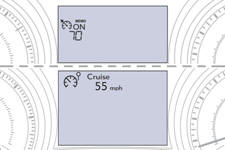 Display in the instrument panel
The cruise control or speed limiter mode appears in the instrument panel when it is selected.

Cruise control

Speed limiter