Peugeot 208: Rear parking sensors
Peugeot 208 Owners Manual
The system is switched on by engaging reverse gear. This is accompanied by an audible signal. The system is switched off when you exit reverse gear.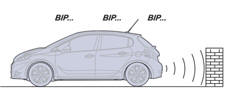 Audible assistance
The proximity information is given by an intermittent audible signal, the frequency of which increases as the vehicle approaches the obstacle. The sound emitted by the speaker (right or left) indicates the side on which the obstacle is located.
When the distance between the vehicle and the obstacle becomes less than approximately thirty centimetres, the audible signal becomes continuous.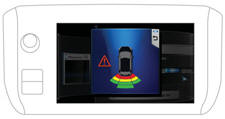 Visual assistance
This supplements the audible signal by displaying bars in the multifunction screen which move progressively nearer to the vehicle. When the obstacle is near, the "Danger" symbol is also displayed in the screen.
Deactivation / Activation of the rear parking sensors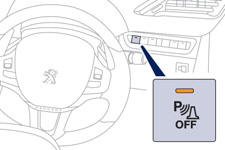 The function is deactivated by pressing this switch. The indicator lamp in the switch comes on.
Pressing this switch again reactivates the function. The indicator lamp in the switch goes off.
The function will be deactivated automatically if a trailer is being towed or a bicycle carrier is fitted (vehicle fitted with a towbar or bicycle carrier recommended by PEUGEOT).
Other info:
Honda Fit. Refilling Window Washer Fluid
Models without washer level sensor Check the amount of window washer fluid. Look for 1/2 mark on the reservoir. If the level is low, fill the washer reservoir. Models with washer level senso If ...
Chevrolet Sonic. Vehicle Messages
DIC messages display when the status of the vehicle has changed and action may be needed to correct the condition. Multiple messages appear one after another. Press any of the DIC buttons on the tu ...
Chevrolet Sonic. Dolly Towing from the Front
The vehicle can be towed from the front using a dolly. To tow the vehicle using a dolly, follow these steps: 1. Attach the dolly to the tow vehicle following the dolly manufacturer's instructions ...