Peugeot 208: Warning triangle (stowing)
Peugeot 208 Owners Manual
The location for stowing a folded triangle or its box is under the front seat.
Before leaving your vehicle to set up and install the triangle, put on your high visibility vest.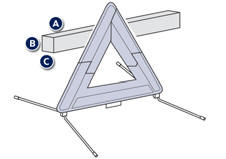 The dimensions of the triangle (once folded) or its storage box must be:
- A: length = 438 mm, - B: height = 56 mm,
- C: width = 38 mm.
To use the triangle, refer to the manufacturer's instructions.
Placing the triangle in the road
Place the triangle at a distance behind the vehicle, as shown in the table below, according to the type of road and the level of ambient light.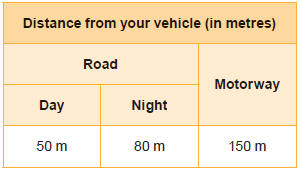 These are the internationally recognised values.
Use the triangle in line with local driving regulations.
The triangle is available as an accessory, contact a PEUGEOT dealer or a qualified workshop.
Other info:
Chevrolet Sonic. If the Vehicle Is Stuck
Slowly and cautiously spin the wheels to free the vehicle when stuck in sand, mud, ice, or snow. If stuck too severely for the traction system to free the vehicle, turn the traction system off an ...
Fiat Punto. Engine coolant fluid
The coolant level shall be checked with cold engine and shall be included between the MIN and MAX mark on the reservoir. If the level is low, pour slowly a mixture of 50% distilled water and 5 ...
Chevrolet Sonic. Electrical System Overload
The vehicle has fuses and circuit breakers to protect against an electrical system overload. When the current electrical load is too heavy, the circuit breaker opens and closes, protecting the ci ...