Skoda Fabia: Full wheel trim
Skoda Fabia Owners Manual
Pulling off
Hook the clamp found in the vehicle tool kit » page 158 into the reinforced edge of the wheel trim.
Push the wheel wrench through the clamp, support on the tyre and pull off the wheel trim.
Fitting
Press the wheel trim onto the wheel rim at the valve opening provided.
Then press the trim into the wheel rim until its entire circumference latches correctly into position.
CAUTION
Use the pressure of your hand only, do not strike the full wheel trim. Avoid striking the trim heavily when it is not yet inserted in the wheel rim. This could cause damage to the guide and centring elements of the trim.
When using the anti-theft wheel bolt, ensure that it is in the hole in the valve area » page 161, Securing wheels against theft.
If wheel trims are retrofitted it must be ensured that an adequate flow of air is assured to cool the brake system.
Wheel bolts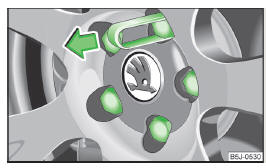 Fig. 137 Remove the cap
Pulling off
Push the extraction pliers » page 158 sufficiently far onto the cap until the inner catches of the pliers are positioned at the collar of the cap.
Remove the cover in the direction of the arrow » Fig. 137.
Fitting
Push the cap onto the wheel bolt up to the stop.
The wheel bolt caps are housed in a plastic box in the spare wheel or in the storage space for the spare wheel.
Wheel bolts
Wheels and wheel bolts are matched to each other in terms of design. Whenever you change the wheels fitted, e.g. light alloy wheels or wheels with winter tyres, you must also use the matching wheel bolts of the correct length and shape of bolt head. Correct fastening of the wheels depends on this.
Other info:
Mazda 2. Driving In Flooded Area
WARNING Dry off brakes that have become wet by driving slowly, releasing the accelerator pedal and lightly applying the brakes several times until the brake performance returns to normal: Drivin ...
Seat Ibiza. Running-in
Running in a new engine The engine needs to be run-in over the first 1,500 km. Up to 1,000 kilometres – Do not drive faster than three quarters of top speed. – Do not accelerate hard. – Avo ...
Skoda Fabia. Heating
Operation Fig. 95 Heating: Control elements Functions of the individual controls » Fig. 95: Set the temperature (turn to the left: to reduce the temperature, turn to the right: to incr ...