Skoda Fabia: Raising the vehicle
Skoda Fabia Owners Manual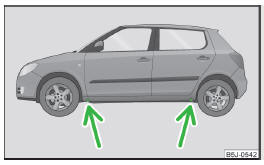 Fig. 142 Jacking points for positioning lifting jack


Fig. 143 Attach lifting jack
Position the car jack below the jacking point closest to the flat tyre » Fig. 142.
The jacking point is located directly below the engraving in the lower sill.
Wind the jack below the jacking point with the crank up until its claw is positioned below the vertical web of the lower sill.
Offer the jack up so that its claw encloses the web » Fig. 143 - .


Support the base plate of the jack with its full area resting on level ground and ensure that the jack is located in a vertical position at the point where the claw encloses the web » Fig. 143 - A.
Continue turning up the jack until the wheel is just about lifted off the ground.
WARNING
Only raise the vehicle at the jacking points.
Choose a flat and firm surface for jacking the vehicle
Other info:
Mazda 2. Seat Belt Precautions
Seat belts help to decrease the possibility of severe injury during accidents and sudden stops. Mazda recommends that the driver and all passengers always wear seat belts. Front seat and rear ou ...
Honda Fit. Gauges
Gauges include the speedometer, tachometer, fuel gauge, and related indicators. They are displayed when the ignition switch is in ON . ■Speedometer Displays your driving speed in mph (U. ...
Fiat Punto. Wheels and tyres
Check the pressure of each tyre, including the spare, every two weeks and before long journeys. The pressure should be checked with the tyre rested and cold. For the correct tyre inflation pressu ...