Skoda Fabia: Rear light
Skoda Fabia Owners Manual


Fig. 162 Plastic nut/rear lamp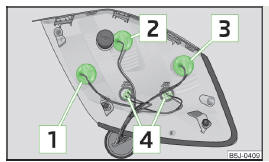 Fig. 163 Tail light assembly: Bulb arrangement
Bulb location » Fig. 163.
Rear fog light/Reversing light
Turn signal lights
Brake lights
parking lights
Removing and installing the tail light
Open the tailgate.
Hold the rear light assembly still with one hand and unscrew the plastic nut » Fig. 162 - A with the other.
Grip the tail lamp assembly and carefully remove it by pulling it back at an angle with loosening movements. Do not pull the grommet with the cables out of the bodywork.
To refit the rear light assembly, first insert screw A into the opening in the bodywork » Fig. 162.
Carefully press the tail light assembly into the bodywork so that the bolts B latch with the mounts in the body.
Hold the rear light assembly still with one hand and attach and tighten the nuts » Fig. 162 - A with the other hand.
Replacing the bulbs in the tail lamp assembly
To replace the bulb, turn the bulb holder anti-clockwise to the stop and remove it from the housing » Fig. 163.
Replace the bulb, insert the holder with the bulb into the housing and turn in a clockwise direction to the the stop.
Note
For slackening and tightening the plastic nut use a coin or similar object.
Other info:
Nissan Micra. Engine compartment check locations
HR16DE engine Drive belt location Engine oil filler cap Air cleaner Brake and clutch (if so equipped) fluid reservoir Fusible link Battery Engine coolant reservoir Radiator cap ...
Mazda 2. Seat Belt Pretensioner and Load Limiting Systems
For optimum protection, the front seat belts and rear outboard seat belts * are equipped with pretensioner and load limiting systems. For both these systems to work properly you must wear the seat ...
Skoda Fabia. Tyre repair
Use the breakdown kit to reliably repair tyre damage caused by foreign bodies or a puncture with diameters up to approx. 4 mm. A repair made using the breakdown kit is never intended to replace a ...