Skoda Fabia: Rear window
Skoda Fabia Owners Manual
WARNING
Make sure that the mirror is not covered by ice, snow, condensation or other objects.
Convex (curved outward) or aspheric exterior mirrors increase the field of vision. They do, however, make objects appear smaller in the mirror. These mirrors are therefore only of limited use for estimating distances to the following vehicles.
Whenever possible use the interior mirror for estimating the distances to the following vehicles.
Manually dimmed rear-view mirror
Basic setting
Adjust the lever at the lower edge of the mirror towards the windshield.
Dimming mirror
Pull the lever on the lower edge of the mirror away from the windscreen.
Exterior mirrors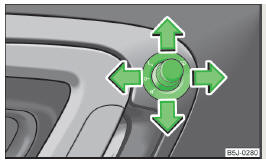 Fig. 53 Inner part of door: Knob for the mirrors
The knob can be moved into the following positions.

Adjust the left mirror

Adjust the right mirror

Switch off mirror control

Mirror heater
The mirror can be adjusted to the desired position by moving the knob in the direction of the arrow » Fig. 53.
The movement of the mirror surface follows the movement of the rotary knob.
Folding in the exterior mirrors
The whole exterior mirror can be manually folded towards the side windows.
Restore it to its original position, it should be folded back from the side window until it audibly clicks into place.
Note
The exterior mirror heater only operates when the engine is running.
Do not touch the surface of the exterior mirrors if the exterior mirror heater is switched on.
If the power setting function fails at any time, the exterior mirrors can be set by hand by pressing on the edge of the mirror surface.
Contact your specialist garage if there is a fault with the electrical adjustment of the exterior mirrors.
Other info:
Chevrolet Sonic. Traction Off Light
This light comes on briefly while starting the engine. If it does not, have the vehicle serviced by your dealer. If the system is working normally, the indicator light then turns off. The tract ...
Renault Clio. Weights
The weights indicated for a basic vehicle without options: they vary depending on the your vehicle's equipment. Consult your approved Dealer. * Towing weight (towing a caravan, boat, etc.) ...
Fiat Punto. Refitting the standard wheel
Proceed as follows: Following the procedure described previously, raise the car and remove the spare wheel; Make sure the contact surfaces between wheel and hub are clean so that the fas ...