Chevrolet Sonic: Cooling System
Chevrolet Sonic Owners Manual
The cooling system allows the engine to maintain the correct working temperature.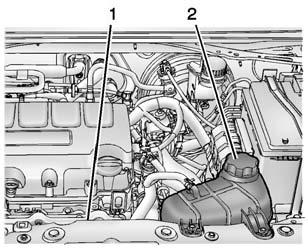 1.4L L4 Engine
1. Engine Cooling Fan (Out of View) 2. Engine Coolant Surge Tank and Pressure Cap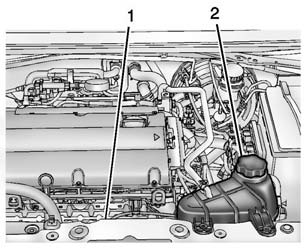 1.8L L4 Engine
1. Engine Cooling Fan (Out of View) 2. Engine Coolant Surge Tank and Pressure Cap
Warning
An electric engine cooling fan under the hood can start up even when the engine is not running and can cause injury. Keep hands, clothing, and tools away from any underhood electric fan.
Warning
Heater and radiator hoses, and other engine parts, can be very hot. Do not touch them. If you do, you can be burned.
Do not run the engine if there is a leak. If you run the engine, it could lose all coolant. That could cause an engine fire, and you could be burned. Get any leak fixed before you drive the vehicle.
Caution
Using coolant other than DEX-COOLВ® can cause premature engine, heater core, or radiator corrosion. In addition, the engine coolant could require changing sooner. Any repairs would not be covered by the vehicle warranty. Always use DEX-COOL (silicate-free) coolant in the vehicle.
Other info:
Nissan Micra. Engine compartment check locations
HR16DE engine Drive belt location Engine oil filler cap Air cleaner Brake and clutch (if so equipped) fluid reservoir Fusible link Battery Engine coolant reservoir Radiator cap ...
Peugeot 208. Gear shift indicator
Operation The system intervenes only when driving economically. Depending on the driving situation and your vehicle's equipment, the system may advise you to skip one or more gears. You can fo ...
Mazda 2. Manual Transaxle Operation
Manual Transaxle Shift Pattern The vehicle is equipped with either a 5-speed or 6-speed manual transaxle. The shift pattern for each is shown above. Depress the clutch pedal all the way down ...