Chevrolet Sonic: Cooling System
Chevrolet Sonic Owners Manual
The cooling system allows the engine to maintain the correct working temperature.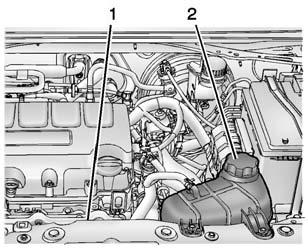 1.4L L4 Engine
1. Engine Cooling Fan (Out of View) 2. Engine Coolant Surge Tank and Pressure Cap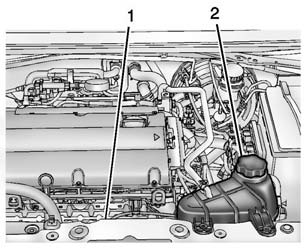 1.8L L4 Engine
1. Engine Cooling Fan (Out of View) 2. Engine Coolant Surge Tank and Pressure Cap
Warning
An electric engine cooling fan under the hood can start up even when the engine is not running and can cause injury. Keep hands, clothing, and tools away from any underhood electric fan.
Warning
Heater and radiator hoses, and other engine parts, can be very hot. Do not touch them. If you do, you can be burned.
Do not run the engine if there is a leak. If you run the engine, it could lose all coolant. That could cause an engine fire, and you could be burned. Get any leak fixed before you drive the vehicle.
Caution
Using coolant other than DEX-COOLВ® can cause premature engine, heater core, or radiator corrosion. In addition, the engine coolant could require changing sooner. Any repairs would not be covered by the vehicle warranty. Always use DEX-COOL (silicate-free) coolant in the vehicle.
Other info:
Chevrolet Sonic. Rear Seats
The vehicle's rear seats have adjustable head restraints in the outboard seating positions. The height of the head restraint can be adjusted. Pull the head restraint up to raise it. Try to move ...
Fiat Punto. Annual inspection schedule
For cars with an annual mileage of below 20,000 km (for example about 15,000 km) the following yearly inspection programme is advised: check tyre conditions/wear and adjust pressure if require ...
Citroen C3. Exterior features
Zenith windscreen This large windscreen provides incomparable visibility and light in the passenger compartment. Temporary puncture repair kit This kit is a complete system consisting of a ...