Chevrolet Sonic: Dolly Towing from the Front
Chevrolet Sonic Owners Manual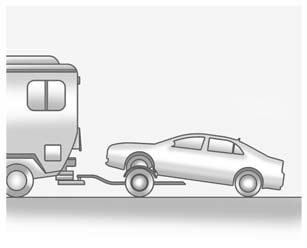 The vehicle can be towed from the front using a dolly. To tow the vehicle using a dolly, follow these steps:
1. Attach the dolly to the tow vehicle following the dolly manufacturer's instructions.
2. Drive the front wheels onto the dolly.
3. Put an automatic transmission in P (Park) or a manual transmission into 1 (First) gear.
4. Set the parking brake and remove the key.
5. Clamp the steering wheel in a straight-ahead position with a clamping device designed for towing.
6. Secure the vehicle to the dolly.
7. Release the parking brake.
Other info:
Chevrolet Sonic. Charging System Light
This light will come on briefly when the ignition is turned on, and the engine is not running, as a check to show it is working. It should go out when the engine is started. If it stays on, or co ...
Chevrolet Sonic. Driving with the Blind Spot Mirror
Actual Mirror View 1. When the approaching vehicle is a long distance away, the image in the main mirror is small and near the inboard edge of the mirror. 2. As the vehicle gets closer, the imag ...
Nissan Micra. Specifications
Engine This spark ignition system complies with the Canadian standard ICES-002. Wheels and tires Dimensions and weights ...