Chevrolet Sonic: Fog Lamps (RS)
Chevrolet Sonic Owners Manual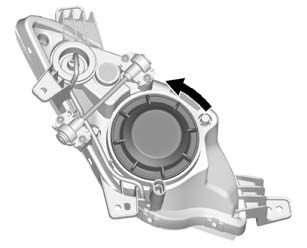 To replace the front fog lamp bulb:
1. Locate the fog lamp located under the front fascia.
2. Remove the cap from the back of the fog lamp assembly.
3. Disconnect the electrical connector from the fog lamp bulb assembly.
4. Remove the bulb by turning it counterclockwise and pulling it straight out of the assembly.
5. Install the new bulb by turning it clockwise into the assembly.
6. Reconnect the electrical connector.
7. Replace the cap on the back of the fog lamp assembly.
Other info:
Mazda 2. Audio Set (Type C/Type D)
NOTE The explanation of functions described in this manual may differ from the actual operation, and the shapes of screens and buttons and the letters and characters displayed may also differ fro ...
Chevrolet Sonic. Forward Collision Alert (FCA) System
For vehicles with this feature, read the following section before using it. The Forward Collision Alert (FCA) system may help to avoid or reduce the harm caused by front-end crashes. FCA provides a ...
Chevrolet Sonic. Battery Load Management
The vehicle has Electric Power Management (EPM) that estimates the battery's temperature and state of charge. It then adjusts the voltage for best performance and extended life of the battery. Wh ...