Chevrolet Sonic: Fog Lamps (RS)
Chevrolet Sonic Owners Manual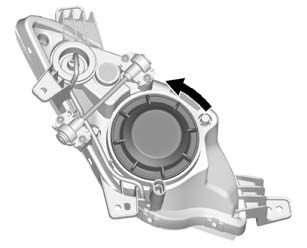 To replace the front fog lamp bulb:
1. Locate the fog lamp located under the front fascia.
2. Remove the cap from the back of the fog lamp assembly.
3. Disconnect the electrical connector from the fog lamp bulb assembly.
4. Remove the bulb by turning it counterclockwise and pulling it straight out of the assembly.
5. Install the new bulb by turning it clockwise into the assembly.
6. Reconnect the electrical connector.
7. Replace the cap on the back of the fog lamp assembly.
Other info:
Mazda 2. Antilock Brake System (ABS)
The ABS control unit continuously monitors the speed of each wheel. If one wheel is about to lock up, the ABS responds by automatically releasing and reapplying that wheel's brake. The driver w ...
Seat Ibiza. Brakes
Brake servo The brake servo amplifies the pressure you apply to the brake pedal. It works only when the engine is running. If the brake servo is not functioning due to a malfunction, or if the ve ...
Chevrolet Sonic. Buying New Tires
GM has developed and matched specific tires for the vehicle. The original equipment tires installed were designed to meet General Motors Tire Performance Criteria Specification (TPC Spec) system r ...