Chevrolet Sonic: Steering Wheel Controls
Chevrolet Sonic Owners Manual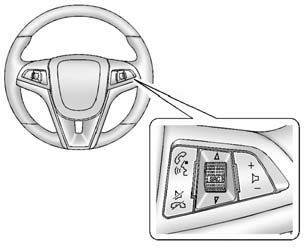 Some audio steering wheel controls could differ depending on the vehicle's options. Some audio steering wheel controls can be adjusted at the steering wheel.

/


: Press to interact with the available
Bluetooth or OnStar systems.

/


: Press to decline an incoming call,
to end speech recognition, or to end a current call. Press to silence the vehicle speakers while using the infotainment system. Press again to turn the sound on.
For vehicles with OnStar or Bluetooth systems, press to reject an incoming call, or end a current call.

SRC


: Press to select an audio source.
Toggle up or down to select the next or previous favorite radio station or CD/MP3 track.
+

−: Press + or − to increase or
decrease the volume.
See Steering Wheel Controls.
Other info:
Chevrolet Sonic. Event Data Recorders
This vehicle is equipped with an event data recorder (EDR). The main purpose of an EDR is to record, in certain crash or near crash-like situations, such as an air bag deployment or hitting a road ...
Chevrolet Sonic. Connection Settings
Select and the following may display: Bluetooth Settings Change Ringtone Ringtone Volume Bluetooth Settings Select this feature to: Connect, disconnect, or delete a device Change or ...