Chevrolet Sonic: Steering Wheel Controls
Chevrolet Sonic Owners Manual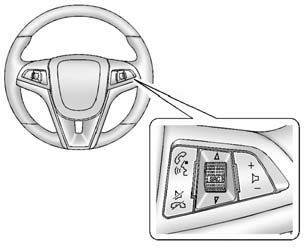 Some audio steering wheel controls could differ depending on the vehicle's options. Some audio steering wheel controls can be adjusted at the steering wheel.

/


: Press to interact with the available
Bluetooth or OnStar systems.

/


: Press to decline an incoming call,
to end speech recognition, or to end a current call. Press to silence the vehicle speakers while using the infotainment system. Press again to turn the sound on.
For vehicles with OnStar or Bluetooth systems, press to reject an incoming call, or end a current call.

SRC


: Press to select an audio source.
Toggle up or down to select the next or previous favorite radio station or CD/MP3 track.
+

−: Press + or − to increase or
decrease the volume.
See Steering Wheel Controls.
Other info:
Fiat Punto. Bodywork
PROTECTION FROM ATMOSPHERIC AGENTS The main causes of corrosion are the following: atmospheric pollution; salty air and humidity (coastal areas, or hot humid climates); seasonal environmen ...
Peugeot 208. Switching the engine off
Immobilise the vehicle. Turn the key fully towards you to position 1 (Stop) . Remove the key from the ignition switch. Free wheeling For safety reasons, do not free wheel. If free wheeling, ...
Citroen C3. Rear seats
Bench seat with fi xed one-piece cushion and split backrest (left hand 2/3, right hand 1/3) which can be folded individually to adapt the load space in the boot. Rear head restraints These h ...