Chevrolet Sonic: Steering Wheel Controls
Chevrolet Sonic Owners Manual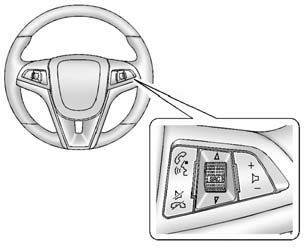 Some audio steering wheel controls could differ depending on the vehicle's options. Some audio steering wheel controls can be adjusted at the steering wheel.

/


: Press to interact with the available
Bluetooth or OnStar systems.

/


: Press to decline an incoming call,
to end speech recognition, or to end a current call. Press to silence the vehicle speakers while using the infotainment system. Press again to turn the sound on.
For vehicles with OnStar or Bluetooth systems, press to reject an incoming call, or end a current call.

SRC


: Press to select an audio source.
Toggle up or down to select the next or previous favorite radio station or CD/MP3 track.
+

−: Press + or − to increase or
decrease the volume.
See Steering Wheel Controls.
Other info:
Mazda 2. Cell Phones
Cell Phones Warning WARNING Please comply with the legal regulations concerning the use of communication equipment in vehicles in your country: Use of any electrical devices such as cell phones, ...
Citroen C3. Automatic gearbox
Four-speed automatic gearbox which offers a choice between the comfort of fully automatic operation, enhanced by sport and snow programmes, or manual gear changing. Therefore, four driving mo ...
Chevrolet Sonic. Radio with Touchscreen
The infotainment system can play music or movies connected by the auxiliary device. Play will begin when the system has finished reading the information on the device. Playing Music To play the m ...