Chevrolet Sonic: Steering Wheel Controls
Chevrolet Sonic Owners Manual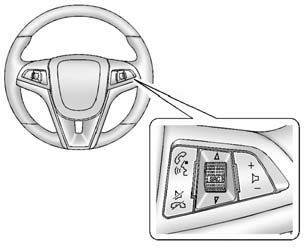 Some audio steering wheel controls could differ depending on the vehicle's options. Some audio steering wheel controls can be adjusted at the steering wheel.

/


: Press to interact with the available
Bluetooth or OnStar systems.

/


: Press to decline an incoming call,
to end speech recognition, or to end a current call. Press to silence the vehicle speakers while using the infotainment system. Press again to turn the sound on.
For vehicles with OnStar or Bluetooth systems, press to reject an incoming call, or end a current call.

SRC


: Press to select an audio source.
Toggle up or down to select the next or previous favorite radio station or CD/MP3 track.
+

−: Press + or − to increase or
decrease the volume.
See Steering Wheel Controls.
Other info:
Chevrolet Sonic. Retained Accessory Power (RAP)
These vehicle accessories may be used for up to 10 minutes after the engine is turned off: Audio System Power Windows Sunroof The power windows and sunroof will continue to work for up to ...
Mazda 2. Lane Departure Warning System (LDWS)
The LDWS system notifi es the driver that the vehicle may be deviating from its lane. The system detects the white or yellow lines on the traffi c lane using the forward sensing camera and if ...