Chevrolet Sonic: Steering Wheel Controls
Chevrolet Sonic Owners Manual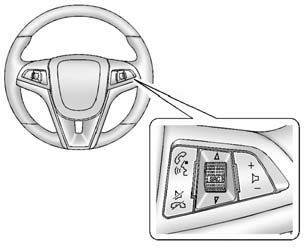 Some audio steering wheel controls could differ depending on the vehicle's options. Some audio steering wheel controls can be adjusted at the steering wheel.

/


: Press to interact with the available
Bluetooth or OnStar systems.

/


: Press to decline an incoming call,
to end speech recognition, or to end a current call. Press to silence the vehicle speakers while using the infotainment system. Press again to turn the sound on.
For vehicles with OnStar or Bluetooth systems, press to reject an incoming call, or end a current call.

SRC


: Press to select an audio source.
Toggle up or down to select the next or previous favorite radio station or CD/MP3 track.
+

−: Press + or − to increase or
decrease the volume.
See Steering Wheel Controls.
Other info:
Peugeot 208. Opening
Open the left hand front door. Pull the release lever, located at the bottom of the door aperture, towards you. Lift the safety catch and raise the bonnet. Do not open the bonnet under ...
Nissan Micra. List of commands
When you press and release the button on the steering wheel, you can choose from the commands on the Main Menu. The following pages describe these commands and the commands in each sub-menu ...
Chevrolet Sonic. Wheels and Trim—Aluminum or Chrome
Use a soft, clean cloth with mild soap and water to clean the wheels. After rinsing thoroughly with clean water, dry with a soft, clean towel. A wax may then be applied. Caution Chrome wheels and ...