Chevrolet Sonic: Steering Wheel Controls
Chevrolet Sonic Owners Manual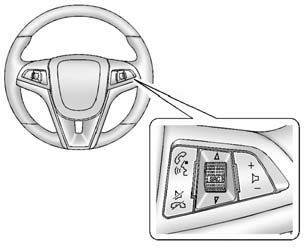 Some audio steering wheel controls could differ depending on the vehicle's options. Some audio steering wheel controls can be adjusted at the steering wheel.

/


: Press to interact with the available
Bluetooth or OnStar systems.

/


: Press to decline an incoming call,
to end speech recognition, or to end a current call. Press to silence the vehicle speakers while using the infotainment system. Press again to turn the sound on.
For vehicles with OnStar or Bluetooth systems, press to reject an incoming call, or end a current call.

SRC


: Press to select an audio source.
Toggle up or down to select the next or previous favorite radio station or CD/MP3 track.
+

−: Press + or − to increase or
decrease the volume.
See Steering Wheel Controls.
Other info:
Chevrolet Sonic. Safety Locks
The rear door safety locks prevent passengers from opening the rear doors from inside the vehicle. Manual Safety Locks If equipped, the safety lock is located on the inside edge of the rear door ...
Mazda 2. SRS Air Bag Deployment Criteria
This chart indicates the applicable SRS equipment that will deploy depending on the type of collision. (The illustrations are the representative cases of collisions.) X : The SRS air bag eq ...
Chevrolet Sonic. Brake Fluid
The brake/clutch master cylinder reservoir is filled with DOT 3 brake fluid as indicated on the reservoir cap. See Engine Compartment Overview for the location of the reservoir. There are ...