Chevrolet Sonic: Steering Wheel Controls
Chevrolet Sonic Owners Manual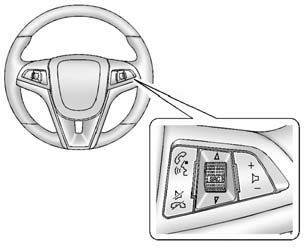 Some audio steering wheel controls could differ depending on the vehicle's options. Some audio steering wheel controls can be adjusted at the steering wheel.

/


: Press to interact with the available
Bluetooth or OnStar systems.

/


: Press to decline an incoming call,
to end speech recognition, or to end a current call. Press to silence the vehicle speakers while using the infotainment system. Press again to turn the sound on.
For vehicles with OnStar or Bluetooth systems, press to reject an incoming call, or end a current call.

SRC


: Press to select an audio source.
Toggle up or down to select the next or previous favorite radio station or CD/MP3 track.
+

−: Press + or − to increase or
decrease the volume.
See Steering Wheel Controls.
Other info:
Skoda Fabia. Net partition (Fabia Estate)
WARNING The belt locks and the belts must be in their original position after folding back the seat cushions and backrests - they must be ready to use. The seat backrests must be securely l ...
Renault Clio. Five door and estate versions
Reversing lights and rear fog lights 12 Open the boot lid. Unclip cover 13 and remove it. Turn bulb holder 14 fully anticlockwise and change the bulb. To reassemble, proceed in the ...