Chevrolet Sonic: License Plate Lamp
Chevrolet Sonic Owners Manual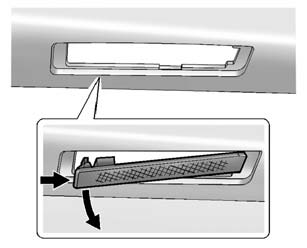 Lamp Assembly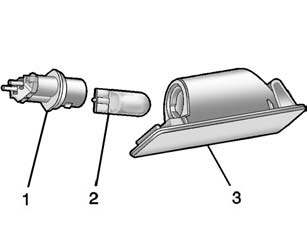 Bulb Assembly
1. Bulb Socket
2. Bulb
3. Lamp Assembly
To replace one of these bulbs:
1. Push the left end of the lamp assembly toward the right.
2. Turn the lamp assembly down to remove it.
3. Turn the bulb socket (1) counterclockwise to remove it from the lamp assembly (3).
4. Pull the bulb (2) straight out of the bulb socket (1).
5. Push the replacement bulb straight into the bulb socket and turn the bulb socket clockwise to install it into the lamp assembly.
6. Turn the lamp assembly into the lamp assembly opening engaging the clip side first.
7. Push on the lamp side opposite the clip until the lamp assembly snaps into place.
Other info:
Chevrolet Sonic. Radio Frequency Statement
This vehicle has systems that operate on a radio frequency that comply with Part 15 of the Federal Communications Commission (FCC) rules and with Industry Canada Standards RSS‐GEN/210/220/31 ...
Peugeot 208. Particle emissions filter (Diesel)
The start of saturation of the particle filter is indicated by the temporary illumination of this warning lamp accompanied by a warning message in the screen. As soon as the traffic conditions pe ...
Renault Clio. Access to towing points
Unclip cover 4 or 6 by sliding a flat tool (or the key integrated in the RENAULT card) under the cover. Tighten towing hitch 3 fully: as much as possible by hand at first, then finish tight ...