Citroen C3: 6-speed manual gearbox
Citroen C3 Owners Manual
Engaging reverse gear
Raise the ring under the knob and push the gear lever to the left then forwards.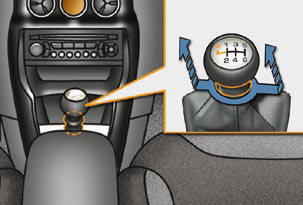 Only engage reverse gear when the vehicle is stationary with the engine at idle.
As a safety precaution and to facilitate starting of the engine:
- always select neutral, - press the clutch pedal.
Other info:
Skoda Fabia. START-STOP
The START-STOP system (hereinafter referred to just as the system) reduces fuel consumption and polluting emissions and CO 2 emissions by turning the engine off, e.g. when stopping at traffic lights ...
Nissan Micra. iPodВ®* player operation (if so equipped)
Connecting iPod WARNING Do not connect, disconnect or operate the USB device while driving. Doing so can be a distraction. If distracted you could lose control of your vehicle ...
Skoda Fabia. Tyre repair
Use the breakdown kit to reliably repair tyre damage caused by foreign bodies or a puncture with diameters up to approx. 4 mm. A repair made using the breakdown kit is never intended to replace a ...