Citroen C3: Gear change indicator
Citroen C3 Owners Manual
System which reduces fuel consumption by advising the driver to change up on vehicles fi tted with a manual gearbox.
Operation
The system intervenes only when driving economically.
Depending on the driving situation and your vehicle's equipment, the system may advise you to skip one or more gears. You can follow this instruction without engaging the intermediate gears.
The gear engagement recommendations must not be considered compulsory. In fact, the confi guration of the road, the amount of traffi c and safety remain determining factors when choosing the best gear. Therefore, the driver remains responsible for deciding whether or not to follow the advice given by the system. This function cannot be deactivated.
Example:
- You are in third gear.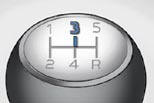 - You press the accelerator pedal moderately.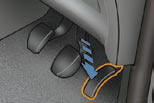 - The system may suggest that you engage a higher gear, if appropriate.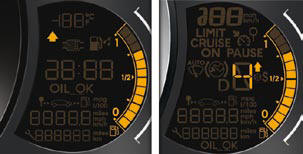 The information appears in the form of an arrow on the instrument panel display.
Depending on your vehicle's equipment, this arrow may be accompanied by the recommended gear.
In the case of driving which makes particular demands on the performance of the engine (fi rm pressure on the accelerator pedal, for example, when overtaking...), the system will not recommend a gear change.
The system never suggests:
- engaging fi rst gear, - engaging reverse gear, - engaging a lower gear.
Other info:
Seat Ibiza. Towing a trailer
Trailer weights The trailer weights and drawbar loads approved are selected in intensive trials according to precisely defined criteria. The approved trailer weights are valid for vehicles in the ...
Chevrolet Sonic. Roof
Sunroof On vehicles with this feature, the sunroof only operates when the ignition is turned to ON/RUN or Retained Accessory Power (RAP) is active. Open/Close: To open the sunroof, press and hol ...
Chevrolet Sonic. Luggage/Load Locations
Load Compartment (Hatchback) The load compartment cover can be used to conceal objects under it or removed and placed on the bottom of the load compartment to carry larger loads. To remove the loa ...