Honda Fit: Shift Lever Does Not Move
Honda Fit Owners Manual
Automatic transmission models
Follow the procedure below if you cannot move the shift lever out of the


position.
■Releasing the Lock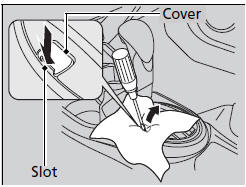 1. Set the parking brake.
2. Remove the key from the ignition switch.
3. Wrap a cloth around the tip of a small flattip screwdriver and remove the cover of the shift lock release slot.
► Put the tip of the flat-tip screwdriver into the slot and remove it as shown in the image.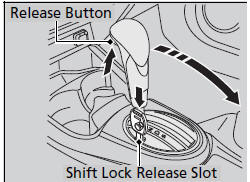 4. Insert the key into the shift lock release slot.
5. While pushing on the key, press the shift lever release button and place the shift lever into

.

► The lock is now released. Have the shift lever checked by a dealer as soon as possible.
Other info:
Mazda 2. Antilock Brake System (ABS)
The ABS control unit continuously monitors the speed of each wheel. If one wheel is about to lock up, the ABS responds by automatically releasing and reapplying that wheel's brake. The driver w ...
Skoda Fabia. Deactivating airbags
Deactivating an airbag should be considered only in the following cases, for example. When using a child seat on the front passenger seat, in which the child has its back to the vehicle's ...
Nissan Micra. Brake precautions
Vacuum assisted brakes The brake booster aids braking by using engine vacuum. If the engine stops, you can stop the vehicle by depressing the brake pedal. However, greater foot pressure on the bra ...