Nissan Micra: Headlights
Nissan Micra Owners Manual
Replacing the halogen headlight bulb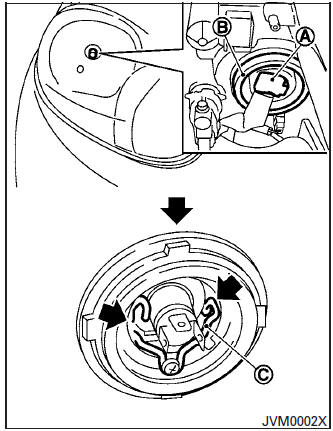 The headlight is a semi-sealed beam type which uses a replaceable headlight (halogen) bulb.
They can be replaced from inside the engine compartment without removing the headlight assembly.
CAUTION
Disconnect the battery negative cable.
Disconnect the electrical connector A from the rear end of the bulb.
Pull off the rubber cap B .
Push and turn the retaining pin C to loosen it.
Remove the headlight bulb. Do not shake or rotate the bulb when removing it.
Install the new bulb in the reverse order of removal.
Fog may temporarily form inside the lens of the exterior lights in the rain or in a car wash. A temperature difference between the inside and the outside of the lens causes the fog. This is not a malfunction. If large drops of water collect inside the lens, contact a NISSAN dealer.