Peugeot 208: Filling
Peugeot 208 Owners Manual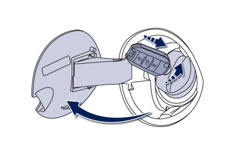 A self-adhesive label on the inner face of the filler flap reminds you of the type of fuel to use depending on your engine.
Additions of fuel must be of at least 5 litres to be registered by the fuel gauge.
The key cannot be removed from the lock until the cap is refitted.
Removing the filler cap may cause an inrush of air. This vacuum is perfectly normal and results from the sealing of the system.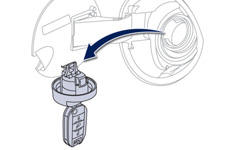 To fill the tank safely:
the engine must be switched off,
open the fuel filler flap,
insert the key in the cap, then turn it to the left,
remove the cap and hook it onto the clip located on the inside of the flap,
fill the tank, but do not continue after the 3rd cut-off of the pump ; this could cause malfunctions.
When you have filled the tank:
put the cap back in place,
turn the key to the right, then remove it from the cap,
close the flap.
If you have put in the wrong fuel for the engine of your vehicle, you must have the fuel tank drained and filled with the correct fuel before starting the engine.
Other info:
Skoda Fabia. Towing device
If your vehicle has already been factory-fitted with towing equipment or is fitted with towing equipment from ŠKODA Original Accessories, then it meets all of the technical requirements and n ...
Fiat Punto. Extending the boot
Single rear seat Proceed as follows: fasten the seat buckles to the tabs on the seat back (as shown by arrows); check that the webbing (A) of each of the two side seat belts is inserted int ...
Mazda 2. Towing
Towing Caravans and Trailers (Europe/Russia/Turkey/Israel/South Africa) Your Mazda was designed and built primarily to carry passengers and cargo. If you tow a trailer, follow these instructions ...