Peugeot 208: Gear shift indicator
Peugeot 208 Owners Manual
Operation
The system intervenes only when driving economically.
Depending on the driving situation and your vehicle's equipment, the system may advise you to skip one or more gears. You can follow this instruction without engaging the intermediate gears.
The gear engagement recommendations must not be considered compulsory. In fact, the configuration of the road, the amount of traffic and safety remain determining factors when choosing the best gear. Therefore, the driver remains responsible for deciding whether or not to follow the advice given by the system. This function cannot be deactivated.
Example: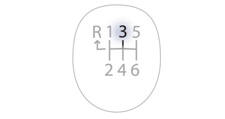 - You are in third gear.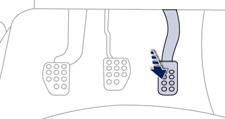 - You press the accelerator pedal moderately.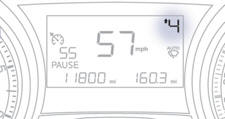 - The system may suggest that you engage a higher gear, if appropriate.
The information appears in the instrument panel in the form of an arrow accompanied by the suggested gear.
In the case of driving which makes particular demands on the performance of the engine (firm pressure on the accelerator pedal, for example, when overtaking...), the system will not recommend a gear change.
The system never suggests:
- engaging first gear, - engaging reverse gear, - engaging a lower gear.
Other info:
Chevrolet Sonic. Radio Controls without Touchscreen
The buttons used to control the radio are: P /VOL: Press to turn the radio on and off. RADIO/BAND: Press to choose between AM, FM, and SiriusXMВ®, if equipped. Push/MENU/TUNE Knob: Turn to navigate ...
Skoda Fabia. Tyre repair
Use the breakdown kit to reliably repair tyre damage caused by foreign bodies or a puncture with diameters up to approx. 4 mm. A repair made using the breakdown kit is never intended to replace a ...
Nissan Micra. Headlights
Replacing the halogen headlight bulb The headlight is a semi-sealed beam type which uses a replaceable headlight (halogen) bulb. They can be replaced from inside the engine compartment witho ...