Peugeot 208: Identifi cation markings
Peugeot 208 Owners Manual
Various visible markings for the identification of your vehicle.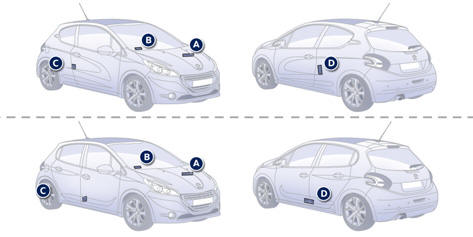 A. Vehicle Identification Number (VIN) under the bonnet. This number is engraved on the bodywork near the damper support.
B. Vehicle identification Number (VIN) on the windscreen lower crossmember. This number is indicated on a self-adhesive label which is visible through the windscreen.
C. Manufacturer's label. The VIN is indicated on a self-destroying label affixed to the middle pillar, on the passenger's side.
D. Tyre/paint label. This label is fitted to the middle pillar, on the driver's side.
It bears the following information:
- the tyre inflation pressures with and without load, - the wheel rim and tyre sizes, - the brands of tyre recommended by the manufacturer, - the inflation pressure of the spare wheel, - the paint colour code.
The tyre pressures must be checked when the tyres are cold, at least once a month.
Low tyre pressures increase fuel consumption.
Other info:
Nissan Micra. Air flow charts
The following charts show the button and dial positions for MAXIMUM AND QUICK heating, cooling or defrosting. The air intake lever should always be in the position for heating and defrosting. ...
Renault Clio. Left-hand drive
The equipment fitted, described below, DEPENDS ON THE VERSION AND COUNTRY. Side air vent. Stalk for: direction indicator lights; exterior lights; front fog lights; rear fog light ...
Citroen C3. Airbags
System designed to maximise the safety of the occupants (with the exception of the rear centre passenger) in the event of violent collisions. It supplements the action of the force-limiting se ...