Peugeot 208: Identifi cation markings
Peugeot 208 Owners Manual
Various visible markings for the identification of your vehicle.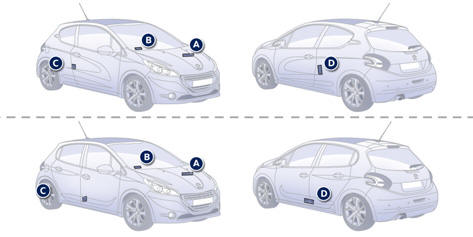 A. Vehicle Identification Number (VIN) under the bonnet. This number is engraved on the bodywork near the damper support.
B. Vehicle identification Number (VIN) on the windscreen lower crossmember. This number is indicated on a self-adhesive label which is visible through the windscreen.
C. Manufacturer's label. The VIN is indicated on a self-destroying label affixed to the middle pillar, on the passenger's side.
D. Tyre/paint label. This label is fitted to the middle pillar, on the driver's side.
It bears the following information:
- the tyre inflation pressures with and without load, - the wheel rim and tyre sizes, - the brands of tyre recommended by the manufacturer, - the inflation pressure of the spare wheel, - the paint colour code.
The tyre pressures must be checked when the tyres are cold, at least once a month.
Low tyre pressures increase fuel consumption.
Other info:
Citroen C3. Remote control key
System which permits central unlocking or locking of the vehicle using the lock or from a distance. It is also used to locate and start the vehicle, as well as providing protection against the ...
Fiat Punto. Bodywork
PROTECTION FROM ATMOSPHERIC AGENTS The main causes of corrosion are the following: atmospheric pollution; salty air and humidity (coastal areas, or hot humid climates); seasonal environmen ...
Chevrolet Sonic. Securing Child Restraints (Right Front Passenger Seat)
This vehicle has airbags. A rear seat is a safer place to secure a forward-facing child restraint. See Where to Put the Restraint. In addition, the vehicle has a passenger sensing system which is d ...