Peugeot 208: Identifi cation markings
Peugeot 208 Owners Manual
Various visible markings for the identification of your vehicle.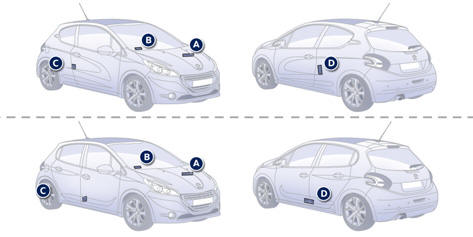 A. Vehicle Identification Number (VIN) under the bonnet. This number is engraved on the bodywork near the damper support.
B. Vehicle identification Number (VIN) on the windscreen lower crossmember. This number is indicated on a self-adhesive label which is visible through the windscreen.
C. Manufacturer's label. The VIN is indicated on a self-destroying label affixed to the middle pillar, on the passenger's side.
D. Tyre/paint label. This label is fitted to the middle pillar, on the driver's side.
It bears the following information:
- the tyre inflation pressures with and without load, - the wheel rim and tyre sizes, - the brands of tyre recommended by the manufacturer, - the inflation pressure of the spare wheel, - the paint colour code.
The tyre pressures must be checked when the tyres are cold, at least once a month.
Low tyre pressures increase fuel consumption.
Other info:
Chevrolet Sonic. Fog Lamps (RS)
To replace the front fog lamp bulb: 1. Locate the fog lamp located under the front fascia. 2. Remove the cap from the back of the fog lamp assembly. 3. Disconnect the electrical connector from th ...
Peugeot 208. Starting using another battery
Connect the red cable to the positive terminal (+) of the flat battery A , then to the positive terminal (+) of the slave battery B. Connect one end of the green or black cable to the negati ...
Nissan Micra. Checking engine coolant level
Check the coolant level in the reservoir when the engine is cold. If the coolant level is below the MIN level B , add coolant to the MAX level A . If the reservoir is empty, check the coolant ...