Peugeot 208: Identifi cation markings
Peugeot 208 Owners Manual
Various visible markings for the identification of your vehicle.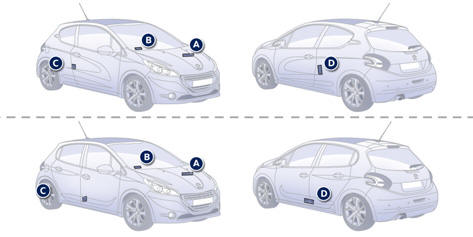 A. Vehicle Identification Number (VIN) under the bonnet. This number is engraved on the bodywork near the damper support.
B. Vehicle identification Number (VIN) on the windscreen lower crossmember. This number is indicated on a self-adhesive label which is visible through the windscreen.
C. Manufacturer's label. The VIN is indicated on a self-destroying label affixed to the middle pillar, on the passenger's side.
D. Tyre/paint label. This label is fitted to the middle pillar, on the driver's side.
It bears the following information:
- the tyre inflation pressures with and without load, - the wheel rim and tyre sizes, - the brands of tyre recommended by the manufacturer, - the inflation pressure of the spare wheel, - the paint colour code.
The tyre pressures must be checked when the tyres are cold, at least once a month.
Low tyre pressures increase fuel consumption.
Other info:
Seat Ibiza. Diesel engine 1.9l TDI 96 kW (131 bhp)
General engine data a) Cetane-Number (cetane index) = Measure of the combustion power of the diesel. Performance figures Weights Trailer weights Engine oil capacity ...
Citroen C3. Interior features
Scented air freshener The scented air freshener diffuses the selected fragrance throughout the passenger compartment from its location in the ventilation system. Automatic air conditioning ...
Chevrolet Sonic. Certification Label
Label Example A vehicle-specific Certification label is attached to the vehicle's center pillar (B-pillar). The label tells the gross weight capacity of the vehicle, called the Gross Vehicle We ...