Citroen C3: Front seats
Citroen C3 Owners Manual
Seat consisting of a seat cushion, a seat back and a head restraint which can all be adjusted to adapt your position for ease of driving and comfort.
Manual adjustments
Forwards-backwards adjustment
Raise the control and slide the seat forwards or backwards.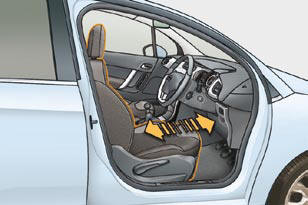 Driver's or passenger's seat height adjustment
Pull the control upwards to raise or push it downwards to lower, as many times as necessary, to obtain the position required.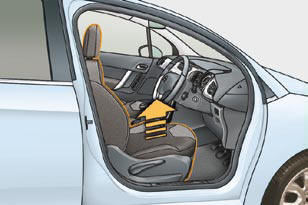 Seat back angle adjustment
Push the control rearwards.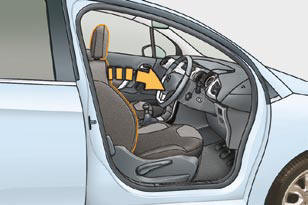 Additional adjustments
Head restraint height adjustment
To raise the head restraint, pull it forwards and upwards at the same time.
To remove the head restraint, press the lug A and pull the head restraint upwards.
To put the head restraint back in place, engage the head restraint stems in the openings keeping them in line with the seat back.
To lower the head restraint, press the lug A and the head restraint at the same time.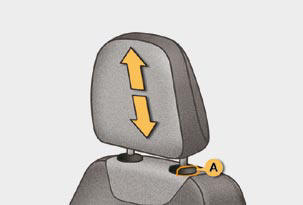 The head restraint is fi tted with a frame with notches which prevents it from lowering; this is a safety device in case of impact.
The adjustment is correct when the upper edge of the head restraint is level with the top of the head.
Never drive with the head restraints removed; they must be in place and adjusted correctly.
Other info:
Honda Fit. TPMS (Tire Pressure Monitoring System)
U.S. models only Monitors the tire pressure while you are driving. If your vehicle's tire pressure becomes significantly low, the low tire pressure indicator comes on. Conditions such as low ...
Ford Fiesta. Vehicle Care
Cleaning Products For best results, use the following products or products of equivalent quality: Motorcraft Bug and Tar Remover (ZC-42) Motorcraft Custom Bright Metal Cleaner (ZC-15) Motorcraft Detai ...
Renault Clio. Battery
This is located under cover 1 and does not need to be serviced. Handle the battery with care as it contains sulphuric acid, which must not come into contact with eyes or skin. If ...