Citroen C3: Rear seats
Citroen C3 Owners Manual
Bench seat with fi xed one-piece cushion and split backrest (left hand 2/3, right hand 1/3) which can be folded individually to adapt the load space in the boot.
Rear head restraints
These have a high position (comfort) and a low position (rear visibility).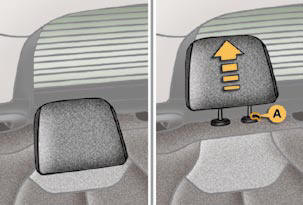 They can also be removed.
To remove a head restraint:
release the backrest using control 1 ,
tilt the backrest 2 slightly forwards,
pull the head restraint upwards to the stop,
then, press the lug A .
Never drive with the head restraints removed; they must be in place and correctly adjusted.
Folding the backrest
Move the corresponding front seat forward if necessary.
Check that the seat belt is positioned correctly on the side of the seat back.
Place the head restraints in the low position.
Pull control 1 forwards to release the seat back 2 .
Fold the seat back 2 on to the cushion.
Repositioning the seat backrest
When repositioning the rear seat backrest:
Straighten the seat back 2 and secure it.
Check that the red indicator, located next to the control 1 , is no longer visisble.
When repositioning the seat backrest, take care not to trap the seat belts.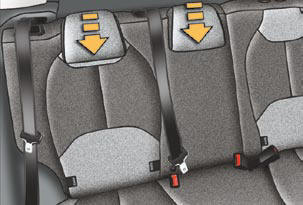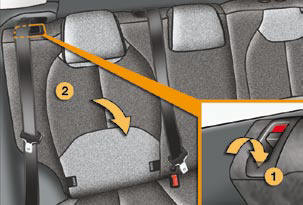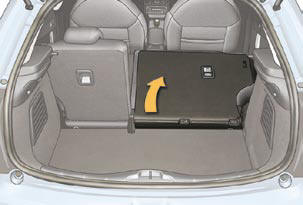 Other info:
Skoda Fabia. Rear seats
Folding the seat backrest forwards Fig. 57 Unlock the seat backrest The luggage compartment can be increased in size by folding the seat backrests forward. The seat backrests can be folded fo ...
Renault Clio. Anti-lock braking system (ABS)
Under heavy braking, the ABS prevents the wheels from locking, allowing the stopping distance to be managed and keeping control of the vehicle. Under these circumstances, the vehicle can be ste ...