Citroen C3: Mirrors
Citroen C3 Owners Manual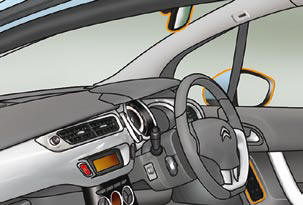 Exterior mirrors
Each fi tted with an adjustable mirror glass permitting the lateral rearward vision necessary for overtaking or parking. They can also be folded for parking in confi ned spaces.
Demisting - defrosting
If your vehicle is fi tted with heated mirrors, the demisting-defrosting is effected with the engine running, by switching on the heated rear screen (refer to the "Demisting-defrosting the rear screen" section).
Adjustment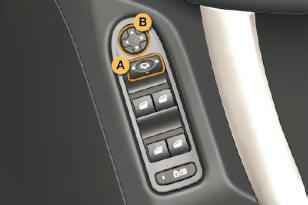 Move control A to the right or to the left to select the corresponding mirror.
Move control B in all four directions to adjust.
Return control A to the central position.
The objects observed are, in reality, closer than they appear.
Take this into account in order to correctly judge the distance of vehicles approaching from behind.
Folding
From outside: lock the vehicle using the remote control or the key.
From inside: with the ignition on, pull control A rearwards.
If the mirrors are folded using control A , they will not unfold when the vehicle is unlocked. Pull again on control A .
Unfolding
From outside: unlock the vehicle using the remote control or the key.
From inside: with the ignition on, pull control A rearwards.
The folding and unfolding of the exterior mirrors using the remote control can be deactivated by a CITROËN dealer.
Interior mirror
Adjustable mirror providing a central rearward view.
Manual model
The mirror is fi tted with a night-time anti-dazzle device.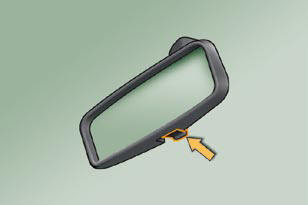 Adjustment
Adjust the mirror so that the glass is directed correctly in the "day" position.
Day/night position
Pull the lever to change to the "night" anti-dazzle position.
Push the lever to change to the normal "day" position.
As a safety precaution, the mirrors must be adjusted to reduce the "blind spot".
Automatic day/night model
System which automatically and progressively changes between the day and night uses.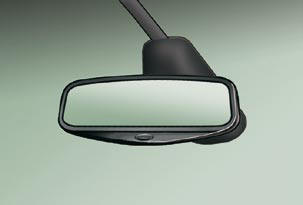 In order to prevent dazzle, the interior mirror glass darkens automatically in relation to the intensity of the light from the rear.
It lightens when the light (light beam of following vehicles, sun...) decreases, so guaranteeing optimum visibility.
In order to guarantee optimum visibility during your manoeuvres, the mirror lightens automatically when reverse gear is engaged.
Other info:
Skoda Fabia. Engine oil
The engine has been factory-filled with a high-grade oil that can be use throughout the year - except in extreme climate zones. Engine oils are the subject of continuous further development. Thus ...
Honda Fit. Exhaust Gas Hazard
Carbon Monoxide Gas The engine exhaust from this vehicle contains carbon monoxide, a colorless, odorless, and highly toxic gas. As long as you properly maintain your vehicle, carbon monoxide gas ...
Chevrolet Sonic. Front Wiper Blade Replacement
Windshield wiper blades should be inspected for wear or cracking. See the Maintenance Schedule for more information. Replacement blades come in different types and are removed in different wa ...