Citroen C3: Mirrors
Citroen C3 Owners Manual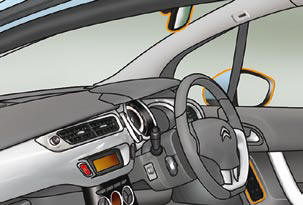 Exterior mirrors
Each fi tted with an adjustable mirror glass permitting the lateral rearward vision necessary for overtaking or parking. They can also be folded for parking in confi ned spaces.
Demisting - defrosting
If your vehicle is fi tted with heated mirrors, the demisting-defrosting is effected with the engine running, by switching on the heated rear screen (refer to the "Demisting-defrosting the rear screen" section).
Adjustment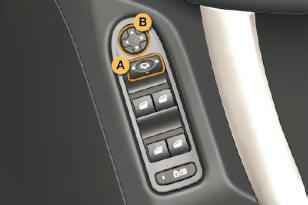 Move control A to the right or to the left to select the corresponding mirror.
Move control B in all four directions to adjust.
Return control A to the central position.
The objects observed are, in reality, closer than they appear.
Take this into account in order to correctly judge the distance of vehicles approaching from behind.
Folding
From outside: lock the vehicle using the remote control or the key.
From inside: with the ignition on, pull control A rearwards.
If the mirrors are folded using control A , they will not unfold when the vehicle is unlocked. Pull again on control A .
Unfolding
From outside: unlock the vehicle using the remote control or the key.
From inside: with the ignition on, pull control A rearwards.
The folding and unfolding of the exterior mirrors using the remote control can be deactivated by a CITROËN dealer.
Interior mirror
Adjustable mirror providing a central rearward view.
Manual model
The mirror is fi tted with a night-time anti-dazzle device.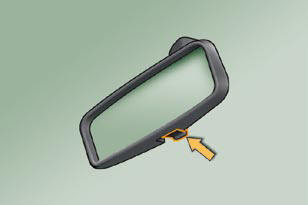 Adjustment
Adjust the mirror so that the glass is directed correctly in the "day" position.
Day/night position
Pull the lever to change to the "night" anti-dazzle position.
Push the lever to change to the normal "day" position.
As a safety precaution, the mirrors must be adjusted to reduce the "blind spot".
Automatic day/night model
System which automatically and progressively changes between the day and night uses.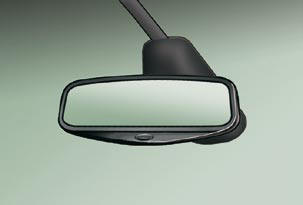 In order to prevent dazzle, the interior mirror glass darkens automatically in relation to the intensity of the light from the rear.
It lightens when the light (light beam of following vehicles, sun...) decreases, so guaranteeing optimum visibility.
In order to guarantee optimum visibility during your manoeuvres, the mirror lightens automatically when reverse gear is engaged.
Other info:
Nissan Micra. NISSAN Vehicle Immobilizer System
The NISSAN Vehicle Immobilizer System will not allow the engine to start without the use of the registered key. If the engine fails to start using a registered key (for example, when interferenc ...
Peugeot 208. Checking tyre pressures / inflating accessories
You can also use the compressor, without injecting any product, to: - check or adjust the pressure of your tyres, - inflate other accessories (balls, bicycle tyres...). Turn the selector A to ...
Skoda Fabia. New tyres
Only fit radial tyres of the same type, size (rolling circumference) and the same tread pattern on one axle on all four wheels. The tyre/wheel combinations which are approved for your vehicle ar ...