Peugeot 208: Parking sensors
Peugeot 208 Owners Manual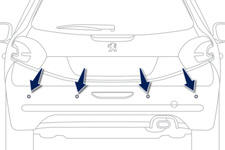 This system indicates the proximity of an obstacle (person, vehicle, tree, gate, etc.) which comes within the field of detection of sensors located in the bumper.
Certain types of obstacle (stake, roadworks cone, etc.) detected initially will no longer be detected at the end of the manoeuvre due to the presence of blind spots.
This function cannot, in any circumstances, take the place of the vigilance and responsibility of the driver.