Chevrolet Sonic: Certification Label
Chevrolet Sonic Owners Manual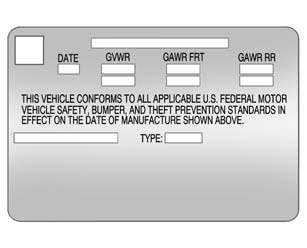 Label Example
A vehicle-specific Certification label is attached to the vehicle's center pillar (B-pillar). The label tells the gross weight capacity of the vehicle, called the Gross Vehicle Weight Rating (GVWR). The GVWR includes the weight of the vehicle, all occupants, fuel, and cargo. Never exceed the GVWR for the vehicle, or the Gross Axle Weight Rating (GAWR) for either the front or rear axle.
And, if there is a heavy load, it should be spread out. See "Steps for Determining Correct Load Limit" earlier in this section.
Warning
Do not load the vehicle any heavier than the Gross Vehicle Weight Rating (GVWR), or either the maximum front or rear Gross Axle Weight Rating (GAWR). This can cause systems to break and change the way the vehicle handles. This could cause loss of control and a crash. Overloading can also shorten the life of the vehicle.
If you put things inside the vehicle—like suitcases, tools, packages, or anything else—they will go as fast as the vehicle goes. If you have to stop or turn quickly, or if there is a crash, they will keep going.
Warning
Things inside the vehicle can strike and injure people in a sudden stop or turn, or in a crash.
. Put things in the cargo area of the vehicle. In the cargo area, put them as far forward as possible. Try to spread the weight evenly.
. Never stack heavier things, like suitcases, inside the vehicle so that some of them are above the tops of the seats.
. Do not leave an unsecured child restraint in the vehicle.
. Secure loose items in the vehicle.
. Do not leave a seat folded down unless needed.
Other info:
Honda Fit. USB Adapter Cable
1. Unclip the USB connector and loosen the adapter cable. 2. Install the iPod® dock connector or the USB flash drive to the USB connector. • Do not leave the iPod® or USB flash drive in the ...
Nissan Micra. Forward-facing child restraint installation using LATCH
For additional information, refer to all Warnings and Cautions in the "Child safety" and "Child restraints" sections of this manual before installing a child restraint. Do not use the lo ...
Chevrolet Sonic. Remote Lock, Unlock, Start
Select Remote Lock, Unlock, Start and the following may display: Remote Unlock Feedback Remote Lock Feedback Remote Door Unlock Remote Unlock Feedback When on, the exterior lamps will flas ...