Chevrolet Sonic: Certification Label
Chevrolet Sonic Owners Manual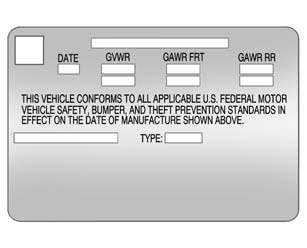 Label Example
A vehicle-specific Certification label is attached to the vehicle's center pillar (B-pillar). The label tells the gross weight capacity of the vehicle, called the Gross Vehicle Weight Rating (GVWR). The GVWR includes the weight of the vehicle, all occupants, fuel, and cargo. Never exceed the GVWR for the vehicle, or the Gross Axle Weight Rating (GAWR) for either the front or rear axle.
And, if there is a heavy load, it should be spread out. See "Steps for Determining Correct Load Limit" earlier in this section.
Warning
Do not load the vehicle any heavier than the Gross Vehicle Weight Rating (GVWR), or either the maximum front or rear Gross Axle Weight Rating (GAWR). This can cause systems to break and change the way the vehicle handles. This could cause loss of control and a crash. Overloading can also shorten the life of the vehicle.
If you put things inside the vehicle—like suitcases, tools, packages, or anything else—they will go as fast as the vehicle goes. If you have to stop or turn quickly, or if there is a crash, they will keep going.
Warning
Things inside the vehicle can strike and injure people in a sudden stop or turn, or in a crash.
. Put things in the cargo area of the vehicle. In the cargo area, put them as far forward as possible. Try to spread the weight evenly.
. Never stack heavier things, like suitcases, inside the vehicle so that some of them are above the tops of the seats.
. Do not leave an unsecured child restraint in the vehicle.
. Secure loose items in the vehicle.
. Do not leave a seat folded down unless needed.
Other info:
Honda Fit. Light Switches
Rotating the light switch turns the lights on and off, regardless of the position of the ignition switch. ■ High beams Push the lever forward until you hear a click. ■ Low beams ...
Peugeot 208. 1.6 litre HDi engine
Fill the fuel tank with at least five litres of diesel. Open the bonnet. If necessary, unclip the styling cover for access to the priming pump. Squeeze and release the priming pump repeatedly ...
Peugeot 208. Additional adjustments
Head restraint height adjustment To raise the head restraint, pull it upwards. To remove the head restraint, press the lug A and pull the head restraint upwards. To put the head restraint back in ...