Chevrolet Sonic: Parking Brake
Chevrolet Sonic Owners Manual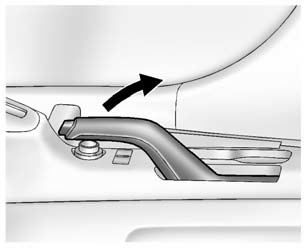 To set the parking brake, hold the brake pedal down and pull up on the parking brake lever. If the ignition is on, the brake system warning light will come on. See Brake System Warning Light.
To release the parking brake, hold the brake pedal down. Pull the parking brake lever up until you can press the release button. Hold the release button in as you move the brake lever all the way down.
Caution
Driving with the parking brake on can overheat the brake system and cause premature wear or damage to brake system parts. Make sure that the parking brake is fully released and the brake warning light is off before driving.
Other info:
Mazda 2. Add-On Non-Genuine Parts and Accessories
Please note that technical alterations to the original state of your Mazda vehicle can affect the safety of the vehicle. Such technical alterations include not only the use of unsuitable spare p ...
Chevrolet Sonic. Air Vents
Use the air vents located in the center and on the side of the instrument panel to direct the airflow. Move the slats on the center air vents to direct airflow. Turn the knobs on the side air vents ...
Renault Clio. Towing a vehicle with an automatic gearbox
With the engine switched off, the transmission is no longer lubricated. It is preferable to tow this type of vehicle on a trailer or tow it with the front wheels off the ground. Under exception ...