Chevrolet Sonic: Turn and Lane-Change Signals
Chevrolet Sonic Owners Manual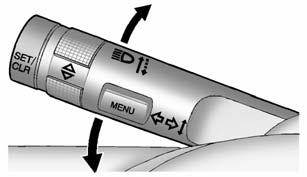 Move the lever all the way up or down to signal a turn.
An arrow on the instrument cluster will flash in the direction of the turn or lane change.
Raise or lower the lever until the arrow starts to flash to signal a lane change. Hold it there until the lane change is completed. If the lever is briefly pressed and released, the turn signal flashes three times.
The lever returns to its neutral position when it is released.
If after signaling a turn or lane change the arrow flashes rapidly or does not come on, a signal bulb may be burned out. Replace any burned out bulbs. If a bulb is not burned out, check the fuse. See Fuses and Circuit Breakers or Bulb Replacement.
Turn Signal On Chime
If the turn signal is left on for more than 1.2 km (0.75 mi), a chime will sound at each flash of the turn signal. To turn the chime off, move the turn signal lever to the neutral position.
Other info:
Fiat Punto. Power windows
CONTROLS Power windows are controlled by two switches located on the dashboard when the key is at MAR: to open/close the front left-hand window; : to open/close the front right-hand window ...
Chevrolet Sonic. Driving on Snow or Ice
Drive carefully when there is snow or ice between the tires and the road, creating less traction or grip. Wet ice can occur at about 0°C (32°F) when freezing rain begins to fall, resulting in e ...
Nissan Micra. Heater and Air Conditioner (manual) (Type B) (if so equipped)
WARNING The air conditioner cooling function operates only when the engine is running. Do not leave children or adults who would normally require the assistance of others al ...