Chevrolet Sonic: When to Add Engine Oil
Chevrolet Sonic Owners Manual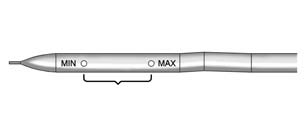 1.8L Shown, 1.4L Similar
If the oil is below the minimum mark on the dipstick, add 1 L (1 qt) of the recommended oil and then recheck the level. See "Selecting the Right Engine Oil" in this section for an explanation of what kind of oil to use. For engine oil crankcase capacity, see Capacities and Specifications.
Caution
Do not add too much oil. Oil levels above or below the acceptable operating range shown on the dipstick are harmful to the engine. If you find that you have an oil level above the operating range, i.e., the engine has so much oil that the oil level gets above the upper mark that shows the proper operating range, the engine could be damaged. You should drain out the excess oil or limit driving of the vehicle and seek a service professional to remove the excess amount of oil.
See Engine Compartment Overview for the location of the engine oil fill cap.
Add enough oil to put the level somewhere in the proper operating range. Push the dipstick all the way back in when through.
Other info:
Nissan Micra. Warning lights
Anti-lock Braking System (ABS) warning light When the ignition switch is placed in the ON position, the ABS warning light illuminates and then turns off. This indicates the ABS is operational. ...
Mazda 2. Collection/Disposal of Old Equipment/Used Battery
Information for Users on Collection and Disposal of Old Equipment and Used Batteries When disposing your old battery, please refer to the information as follows. Information on Disposal in the Euro ...
Peugeot 208. Daytime running lamps
Daytime lighting, compulsory in certain countries, which comes on automatically when the engine is started making the vehicle more visible to other users. This function is assured: - in countries ...