Citroen C3: "ISOFIX" mountings
Citroen C3 Owners Manual
Your vehicle has been approved in accordance with the new ISOFIX regulation .
The seats, represented below, are fi tted with regulation ISOFIX mountings: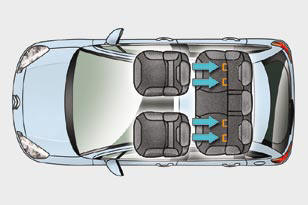 These are three rings for each seat:
- two rings A , located between the vehicle seat back and cushion, indicated by a label,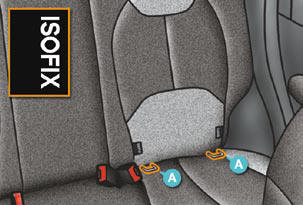 - a ring B , behind the seat, referred to as the TOP TETHER for fi xing the upper strap.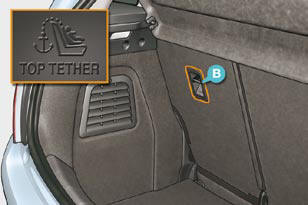 This ISOFIX mounting system guarantees you fast, reliable and safe fi tting of the child seat in your vehicle.
The ISOFIX child seats are fi tted with two locks which are secured easily on the two rings A .
Some also have an upper strap which is attached to ring B .
To attach this strap, raise the vehicle seat's head restraint then pass the hook between its rods. Then fi x the hook on ring B and tighten the upper strap.
The incorrect installation of a child seat in a vehicle compromises the child's protection in the event of an accident.
For information regarding the ISOFIX child seats which can be installed in your vehicle, consult the summary table for the location of the ISOFIX child seats.
Other info:
Peugeot 208. Child seat in the front
"Rearwards-facing" When a "rearwards-facing" child seat is installed on the front passenger seat, it is essential that the passenger airbag is deactivated. Otherwise, the chil ...
Chevrolet Sonic. Engine Heater
The engine heater can provide easier starting and better fuel economy during engine warm-up in cold weather conditions at or below −18°C (0°F). Vehicles with an engine heater should be plu ...
Chevrolet Sonic. Driving on Snow or Ice
Drive carefully when there is snow or ice between the tires and the road, creating less traction or grip. Wet ice can occur at about 0°C (32°F) when freezing rain begins to fall, resulting in e ...