Fiat Punto: Extending the boot
Fiat Punto Owners Manual
Single rear seat
Proceed as follows: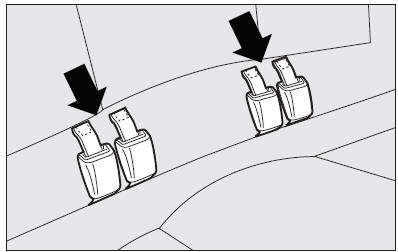 Split rear seat back (where provided)
The boot can be extended completely or partially.
For partial extension fold the required seat side; proceed as follows:
remove the parcel shelf (see next paragraph);
press the button by the side of the two supports and remove the head restraints by pulling them upwards;
check that the webbing (A) of each of the two side seat belts is inserted into the respective belt guiding tongue (B);
release the seat back moving lever (C), then tilt it.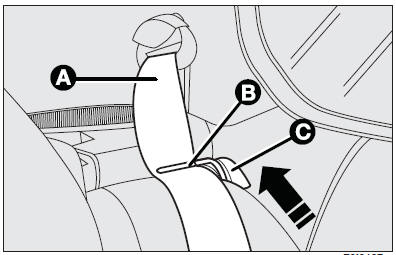 To fold the whole seat, lift the cushion and then tip the seat backs as described for the rear single seat.
The central three-point seat belt and reel mechanism (where fitted) can be removed as follows:
press the black button on the buckle (A) if the seat belt is fastened;
take the central belt slowly to the loop retainer (B) on the upper part of the seat back and remove the second tongue (C) from the loop retainer;
remove the first tongue (D) from the loop retainer and fasten it to the specific pin (E) on the rear pillar panel;
To restore conditions for use:
release the first tongue (D) from pin (E);
insert the first tongue (D) in loop retainer (B) without twisting the belt. Make notch (F) on the belt tongue coincide with the respective groove on the loop retainer and insert the second tongue (C) in the loop retainer;
pull the belt gently through loop retainer (B), and fasten the first tongue (D) in buckle (A) (grey with black button). Make the two yellow dots (one on the tongue and one on the buckle) coincide.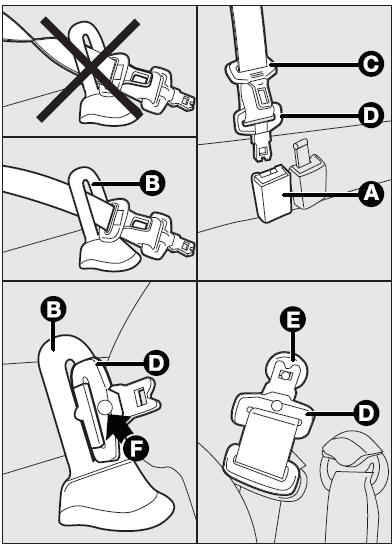 Other info:
Mazda 2. Traction Control System (TCS)
The Traction Control System (TCS) enhances traction and safety by controlling engine torque and braking. When the TCS detects driving wheel slippage, it lowers engine torque and operates the brake ...
Seat Ibiza. Engine oil
Engine oil specifications The engine oil used must conform with exact specifications. Specifications The engine comes with a special, high quality, multi grade oil that can be used in all seasons ...
Skoda Fabia. General information
In this section you will find important information, tips and notes on the subject of passive safety in your vehicle. We have combined everything here which you should be familiar with, for exam ...