Fiat Punto: Installing the tow hook
Fiat Punto Owners Manual
The towing device should be fastened to the body by specialised personnel according to any additional and/or integrative information supplied by the Manufacturer of the device.
The towing device must meet current regulations with reference to 94/20/EC Directive and subsequent amendments.
For any version the towing device used must match the towable weight of the vehicle on which it is to be installed.
For the electric connection a unified connector should be used which is generally placed on a special bracket normally fastened to the towing device, and a special ECU for external trailer light control shall be installed on the car.
For the electrical connection, a 7 or 13 pole 12ESP coupling must be used (CUNA/UNI and ISO/DIN standards). Follow the instructions provided by the car manufacturer and/or the tow hitch manufacturer.
An electric brake should be supplied directly by the battery through a cable with a cross section of no less than 2,5 mm2.
IMPORTANT Electric brake or other device shall be used with running engine.
In addition to the electrical branches, the car's electric system can only be connected to the supply cable for an electric brake and to the cable for an internal light, though not above 15W.
For connections use a preset control unit with battery cable no less than 2,5 mm2.
Assembly diagram
The tow hook structure must be fastened in the points shown by the symbol

using a total of 4 M8 screws 2
M10 screws and 2 M12 screws.
In the fastening points of the rear external covering, the dampening pad fastening plates must be replaced with right plate A and left plate B (code 50901257 and 50901258) that shall compulsorily be mounted in the external side of the rear covering, as shown in the figure.
The hook should be fastened to the body avoiding any type of drilling and trimming of the rear bumpers that remains visible when the hook is removed.
IMPORTANT It is compulsory to fasten a label (plainly visible) of suitable size and material with the following wording:
MAX LOAD ON BALL 60 kg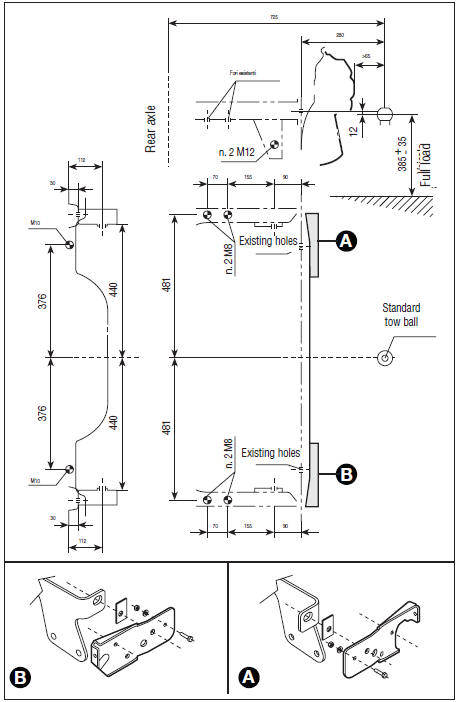 After fitting, screw
holes shall be sealed to prevent an exhaust gas inlet.
Other info:
Chevrolet Sonic. Washer Fluid
Open the cap with the washer symbol on it. Add washer fluid until the tank is full. See Engine Compartment Overview for reservoir location. Caution . Do not use engine coolant (antifree ...
Peugeot 208. Automated mode
Following use of the sequential mode, select position A to return to the automated mode. AUTO and the gear engaged appear in the instrument panel. The gearbox then operates in auto-adaptive mod ...
Fiat Punto. Car inactivity
If the car is to be left inactive for longer than a month, the following precautions should be noted: park the car in covered, dry and if possible wellventilated premises; engage a gear; ch ...