Fiat Punto: Wheels
Fiat Punto Owners Manual
RIMS AND TYRES
Pressed steel or alloy rims. Tubeless tyres with radial carcass. The homologated tyres are listed in the Log book.
IMPORTANT In the event of discrepancies between the information provided on this "Owner handbook" and the "Log book", consider the specifications shown in the log book only.
Attaining to the prescribed size, to ensure safety of the car in movement, it must be fitted with tyres of the same make and type on all wheels.
IMPORTANT Do not use inner tubes with Tubeless tyres.
SPACE-SAVER SPARE WHEEL
Pressed steel rim. Tubeless tyre.
WHEEL GEOMETRY
Front wheel toe-in measured from rim to rim: 0 ±1 mm.
The values refer to the car in running order.
UNDERSTANDING TYRE MARKING
Example: 185/60 R 14 82 H
185 = Nominal width (S, distance between sidewalls in mm).
60 = Percentage height/width ratio (H/ S).
R = Radial tyre.
14 = Rim diameter in inches (Ø).
82 = Load rating.
H = Maximum speed rating.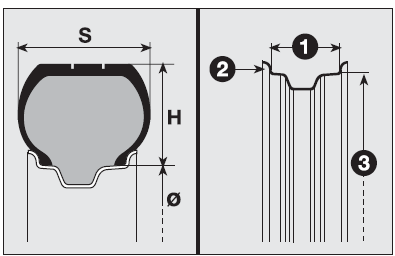 Load rating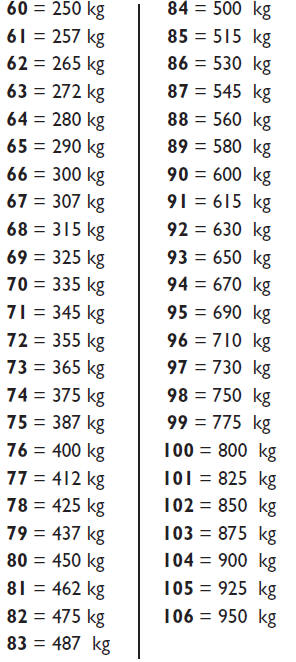 Maximum speed rating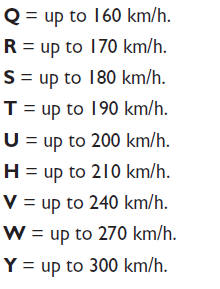 UNDERSTANDING RIM MARKING
Example: 5 1/2 J x 14 H2 35
5 1/2 = rim width in inches (1).
J = rim drop center outline (side projection where the tyre bead rests) (2).
15 = rim nominal diameter in inches (corresponds to diameter of the tyre to be mounted) (3 = Ø).
H2 = "hump" shape and number (relief on the circumference holding the Tubeless tyre bead on the rim).
35 = wheel camber angle (distance between the disc/rim supporting plane and the wheel rim centre line).


Refer to the above
mentioned table for information on the wheels where snow chains can be fitted.

Follow the prescriptions.
COLD TYRE INFLATION PRESSURE (bar)

Add +0.3 bar to the prescribed inflation pressure when the tyres are warm. Recheck pressure value with cold tyres.
With snow tyres, add +0.2 bar to the inflation pressure value prescribed for standard tyres.
Other info:
Citroen C3. Scented air freshener
System permitting the diffusion of a fragrance in the passenger compartment in accordance with your requirements, by means of the adjustment dial and the various fragrance cartridges available ...
Chevrolet Sonic. Interior Glass
To clean, use a terry cloth fabric dampened with water. Wipe droplets left behind with a clean dry cloth. Commercial glass cleaners may be used, if necessary, after cleaning the interior glass wit ...
Skoda Fabia. Spare and back-up wheel
Fig. 136 Fixing the back-up or spare wheel The spare wheel is located in a well under the floor covering in the boot and is fixed in place with a special bolt » Fig. 136. Taking the wheel ou ...