Honda Fit: Emergency Towing
Honda Fit Owners Manual
Call a professional towing service if you need to tow your vehicle.
■ Flat bed equipment
The operator loads your vehicle on the back of a truck.
This is the best way to transport your vehicle.
■ Wheel lift equipment
The tow truck uses two pivoting arms that go under the front tires and lift them off the ground. The rear tires remain on the ground. This is an acceptable way to tow your vehicle.
NOTICE
Trying to lift or tow your vehicle by the bumpers will cause serious damage. The bumpers are not designed to support the vehicle's weight.
NOTICE
Improper towing such as towing behind a motorhome or other motor vehicle can damage the transmission.
Never tow your vehicle with just a rope or chain.
It is very dangerous, since ropes or chains may shift from side to side or break.
Towing Hook
For very short distances, such as freeing the vehicle, you can use the detachable towing hook that mounts on the anchors in the front and rear bumpers.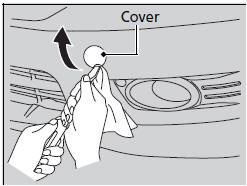 1. Put cloth on the edge of the cover.
Carefully pry with a small flat-tip screwdriver or a metal fingernail file to remove the cover.
2. Take the towing hook and the jack handle bar out of the tool bag in the cargo area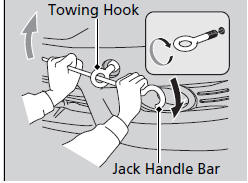 3. Screw the towing hook into the hole, and tighten it with the jack handle bar.
NOTICE
To avoid damage to your vehicle, use the towing hook for straight, flat ground towing only. Do not tow at an angle. This hook should not be used to tow the vehicle onto a flat bed. Do not use it as a tie down.
Make sure to use the properly-designed and attached towing equipment.
NOTICE
Do not slip the clutch for a long time to get unstuck.
This may overheat and damage the transmission.
When You Cannot Open the Tailgate
Models without tailgate key cylinder
If you cannot open the tailgate use the following procedure.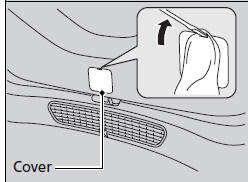 1. Use a flat-tip screwdriver and remove the cover on the back of the tailgate.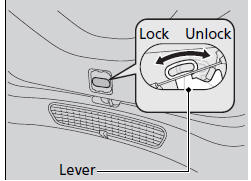 2. To open the tailgate, push the tailgate while pushing the lever to the unlocking direction.
What to do-Following up After taking these steps, contact a dealer to have the vehicle checked.
When you open the tailgate from inside, make sure there is enough space around the tailgate, and it does not hit anyone or any object.