Honda Fit: Fog Light Bulbs
Honda Fit Owners Manual
When replacing, use the following bulbs.
Fog Light: 55 W (H11)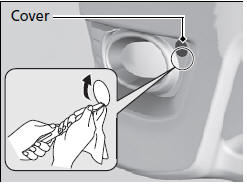 1. Pry on the edge of the cover using a flat-tip screwdriver to remove the cover.
► Wrap the flat-tip screwdriver with a cloth to prevent scratches.
NOTICE
Halogen bulbs get very hot when lit. Oil, perspiration, or a scratch on the glass can cause the bulb to overheat and shatter.
The fog lights are halogen bulbs.
When replacing a bulb, handle it by its plastic case, and protect the glass from contact with your skin or hard objects. If you touch the glass, clean it with denatured alcohol and a clean cloth.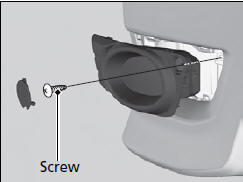 2. Remove the screw using a Phillips-head screwdriver and carefully pull the fog light assembly out of the bumper.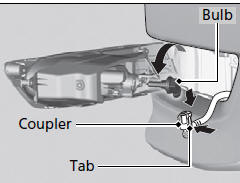 3. Remove the coupler.
► It can be removed by pushing the tab.> 4. Rotate the old bulb to the left to remove.> 5. Insert a new bulb into the fog light assembly and turn it to the right.> 6. Insert the coupler into the connector of the bulb.
Other info:
Renault Clio. Towing a vehicle with an automatic gearbox
With the engine switched off, the transmission is no longer lubricated. It is preferable to tow this type of vehicle on a trailer or tow it with the front wheels off the ground. Under exception ...
Mazda 2. Operating Tips for Audio System
WARNING Always adjust the audio while the vehicle is stopped: Do not adjust the audio control switches while driving the vehicle. Adjusting the audio while driving the vehicle is dangerous as ...
Renault Clio. Engine coolant
With the engine switched off and on level ground, the level when cold must be between the MINI and MAXI marks on reservoir 1. Top this level up when cold before it reaches the MINI mark. ...