Honda Fit: Fog Light Bulbs
Honda Fit Owners Manual
When replacing, use the following bulbs.
Fog Light: 55 W (H11)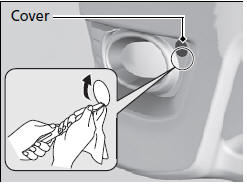 1. Pry on the edge of the cover using a flat-tip screwdriver to remove the cover.
► Wrap the flat-tip screwdriver with a cloth to prevent scratches.
NOTICE
Halogen bulbs get very hot when lit. Oil, perspiration, or a scratch on the glass can cause the bulb to overheat and shatter.
The fog lights are halogen bulbs.
When replacing a bulb, handle it by its plastic case, and protect the glass from contact with your skin or hard objects. If you touch the glass, clean it with denatured alcohol and a clean cloth.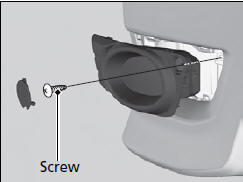 2. Remove the screw using a Phillips-head screwdriver and carefully pull the fog light assembly out of the bumper.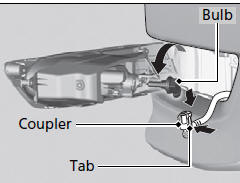 3. Remove the coupler.
► It can be removed by pushing the tab.> 4. Rotate the old bulb to the left to remove.> 5. Insert a new bulb into the fog light assembly and turn it to the right.> 6. Insert the coupler into the connector of the bulb.
Other info:
Nissan Micra. Readiness for inspection/maintenance (I/M) test
Due to legal requirements in some Canadian Provinces, your vehicle may be required to be in what is called the "ready condition" for an Inspection/Maintenance (I/M) test of the emission contro ...
Chevrolet Sonic. Warning Lights, Gauges, and Indicators
Warning lights and gauges can signal that something is wrong before it becomes serious enough to cause an expensive repair or replacement. Paying attention to the warning lights and gauges could p ...
Chevrolet Sonic. Cruise Control
: Press to turn the cruise control system on and off. RES/+: Move the thumbwheel up briefly to make the vehicle resume to a previously set speed or hold upwards to accelerate. If cruise contro ...