Honda Fit: Overheating
Honda Fit Owners Manual
How to Handle Overheating
Overheating symptoms are as follows: • The high temperature indicator comes on or the engine suddenly loses power.
• Steam or spray comes out of the engine compartment.
■ First thing to do
1. Immediately park the vehicle in a safe place.
2. Turn off all accessories and turn on the hazard warning lights.
► No steam or spray present:
Keep the engine running and open the hood.
► Steam or spray is present:
Turn off the engine and wait until it subsides.
Then open the hood.
WARNING
Steam and spray from an overheated engine can seriously scald you.
Do not open the hood if steam is coming out.
NOTICE
Continuing to drive with the high temperature indicator on may damage the engine.
■ Next thing to do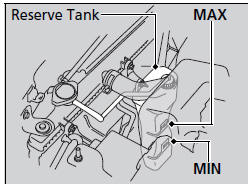 1. Check that the cooling fan is operating and stop the engine once the high temperature indicator goes off.
► If the cooling fan is not operating, immediately stop the engine.
2. Once the engine has cooled down, inspect the coolant level and check the cooling system components for leaks.
► If the coolant level in the reserve tank is low, add coolant until it reaches the MAX mark.
► If there is no coolant in the reserve tank, check that the radiator is cool. Cover the radiator cap with a heavy cloth and open the cap. If necessary, add coolant up to the base of the filler neck, and put the cap back on
■ Last thing to do
Once the engine has cooled sufficiently, restart it and check the high temperature indicator.
If the high temperature indicator is off, resume driving. If it stays on, contact a dealer for repairs.
WARNING
Removing the radiator cap while the engine is hot can cause the coolant to spray out, seriously scalding you.
Always let the engine and radiator cool down before removing the radiator cap.
If the coolant is leaking, contact a dealer for repairs.
Use water as an emergency/temporary measure only.
Have a dealer flush the system with proper antifreeze as soon as possible.
Other info:
Honda Fit. Opening and Closing the Windows
Opening/Closing the Power Windows The power windows can be opened and closed when the ignition switch is in ON , using the switches on the doors. The driver's side switches can be used to open ...
Chevrolet Sonic. License Plate Lamp
Lamp Assembly Bulb Assembly 1. Bulb Socket 2. Bulb 3. Lamp Assembly To replace one of these bulbs: 1. Push the left end of the lamp assembly toward the right. 2. Turn the lamp assembly down ...
Renault Clio. To the rear seat belts
Force limiter Above a certain severity of impact, this mechanism is used to limit the force of the belt against the body so that it is at an acceptable level. Have the entire rest ...