Honda Fit: Recommended CDs
Honda Fit Owners Manual
• Use only high-quality CD-R or CD-RW discs labeled for audio use.
• Use only CD-R or CD-RW discs on which the recordings are closed.
• Play only standard round-shaped CDs.

A Dual-disc cannot play on this audio unit. If recorded under certain conditions, a CD-R or CD-RW may not play either.
■CDs with MP3 or WMA files
• Some software files may not allow for audio play or text data display.
• Some versions of MP3 or WMA formats may be unsupported.
■ Protecting CDs
Follow these precautions when handling or storing CDs:
• Store a CD in its case when it is not being played.
• When wiping a CD, use a soft clean cloth from the center to the outside edge.
• Handle a CD by its edge. Never touch either surface.
• Never insert foreign objects into the CD player.
• Keep CDs out of direct sunlight and extreme heat.
• Do not place stabilizer rings or labels on the CD.
• Avoid fingerprints, liquids, and felt-tip pens on the CD.
NOTICE
Do not insert a damaged CD. It may be stuck inside and damage the audio unit.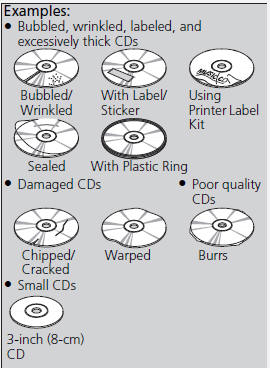 Other info:
Nissan Micra. Towing your vehicle
When towing your vehicle, all Provinces in Canada and local regulations for towing must be followed. Incorrect towing equipment could damage your vehicle. Towing instructions are available from a ...
Chevrolet Sonic. Selecting a Station
Seek Tuning If the radio station is not known: Press SEEK to automatically search for available radio stations. Hold and drag to the left or right of the radio station to automatically search ...
Honda Fit. Precautions While Driving
NOTICE Do not operate the shift lever while pressing the accelerator pedal. You could damage the transmission. If the ignition switch is turned to ACCESSORY or LOCK while driving, the engine ...