Honda Fit: Recommended CDs
Honda Fit Owners Manual
• Use only high-quality CD-R or CD-RW discs labeled for audio use.
• Use only CD-R or CD-RW discs on which the recordings are closed.
• Play only standard round-shaped CDs.

A Dual-disc cannot play on this audio unit. If recorded under certain conditions, a CD-R or CD-RW may not play either.
■CDs with MP3 or WMA files
• Some software files may not allow for audio play or text data display.
• Some versions of MP3 or WMA formats may be unsupported.
■ Protecting CDs
Follow these precautions when handling or storing CDs:
• Store a CD in its case when it is not being played.
• When wiping a CD, use a soft clean cloth from the center to the outside edge.
• Handle a CD by its edge. Never touch either surface.
• Never insert foreign objects into the CD player.
• Keep CDs out of direct sunlight and extreme heat.
• Do not place stabilizer rings or labels on the CD.
• Avoid fingerprints, liquids, and felt-tip pens on the CD.
NOTICE
Do not insert a damaged CD. It may be stuck inside and damage the audio unit.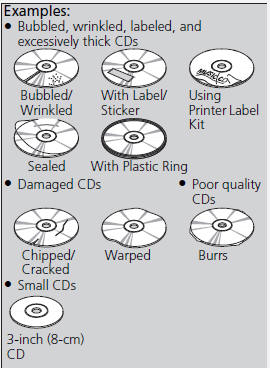 Other info:
Mazda 2. Turbocharger Information (SKYACTIV-D 1.5)
CAUTION After driving at freeway speeds or up a long hill, idle the engine at least 30 seconds before stopping it. Otherwise, the turbocharger could be damaged. However, when i-stop oper ...
Honda Fit. Changing a Flat Tire
If a tire goes flat while driving, grasp the steering wheel firmly, and brake gradually to reduce speed. Then, stop in a safe place. Replace the flat tire with a compact spare tire. Go to a deal ...
Renault Clio. Automatic climate control
The controls Automatic mode. Air temperature adjuster. "Clear View" function. Passenger compartment air distribution adjustment. Air conditioning control. Adjusting the ventila ...