Honda Fit: Starting the Engine
Honda Fit Owners Manual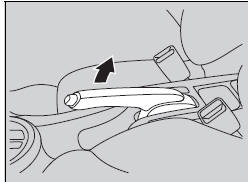 1. Make sure the parking brake is applied.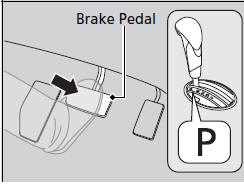 Automatic transmission models
2. Check that the shift lever is in

, then
depress the brake pedal.
► Although it is possible to start the vehicle in

, it is safer to start it in


.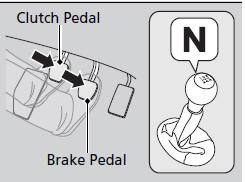 Manual transmission models
2. Check that the shift lever is in

. Then
depress the brake pedal with your right foot, and the clutch pedal with your left foot.
►The clutch pedal must be fully depressed to start the engine.
Keep your foot firmly on the brake pedal when starting the engine.
The engine is harder to start in cold weather and in thinner air found at altitudes above 8,000 feet (2,400 meters).
When starting the engine in cold weather, turn off all electrical accessories such as the lights, heating and cooling* system, and rear defogger in order to reduce battery drain.
If you live in a region where winter is extremely cold, an engine block heater will improve starting and warming of the engine. If temperatures consistently below -22°F (-30°C) are expected, the coolant mixture should be changed to a higher concentration to prevent freezing. Consult a dealer for details.
If the exhaust system sounds abnormal or you can smell exhaust gas inside the vehicle, have your vehicle checked by a dealer. There may be a problem with the engine or exhaust system.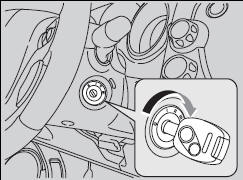 3. Turn the ignition switch to START


without depressing the accelerator pedal.
Do not hold the key in START

for
more than 15 seconds.
• If the engine does not start right away, wait for at least 10 seconds before trying again.
• If the engine starts, but then immediately stops, wait at least 10 seconds before repeating step 3 while gently depressing the accelerator pedal.
Release the accelerator pedal once the engine starts.
The immobilizer system protects your vehicle from theft. If an improperly coded device is used, the engine's fuel system is disabled.
■Starting to Drive
Automatic transmission models
1. Keeping your right foot on the brake pedal, release the parking brake. Check that the brake system indicator has gone off.
2. Put the shift lever in

. Select


when reversing.

3. Gradually release the brake pedal and gently depress the accelerator pedal to pull away.
Other info:
Peugeot 208. Moving off
Apply the parking brake. Select position P or N. Start the engine. If this procedure is not followed, there is an audible signal, accompanied by the display of an warning message. With ...
Fiat Punto. Front and side air bags
The car is fitted with driver's air bag. As optional it can be fitted with passenger's air bag, side bags and window bag. The front air bag (driver and passenger) has been designed to protec ...
Chevrolet Sonic. Replacing Safety Belt System Parts after a Crash
Warning A crash can damage the safety belt system in the vehicle. A damaged safety belt system may not properly protect the person using it, resulting in serious injury or even death in a crash. ...