Nissan Micra: Rear switch operation
Nissan Micra Owners Manual
The rear window wiper and washer operate when the ignition switch is placed in the ON position.
Turn the switch clockwise from the OFF position to operate the wiper.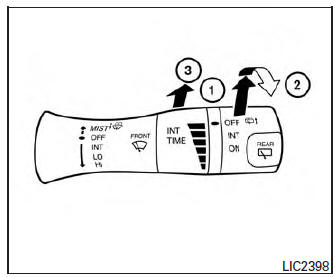 Intermittent (INT) – intermittent operation (not adjustable)
ON – continuous low speed operation
Push the switch forward 3 to operate the washer. The wiper will also operate several times.
WARNING In freezing temperatures the washer solution may freeze on the window and obscure your vision. Warm the rear window with the defroster before you wash the rear window.
CAUTION
Do not operate the washer continuously for more than 30 seconds.
Do not operate the washer if the windshield-washer fluid reservoir is empty.
Do not fill the windshield-washer fluid reservoir with windshield-washer fluid concentrates at full strength. Some methyl alcohol based windshieldwasher fluid concentrates may permanently stain the grille if spilled while filling the windshield-washer fluid reservoir.
Pre-mix windshield-washer fluid concentrates with water to the manufacturer's recommended levels before pouring the fluid into the windshield-washer fluid reservoir. Do not use the windshield-washer fluid reservoir to mix the windshield-washer fluid concentrate and water.
Other info:
Renault Clio. Boot storage
Mobile floor When fitted to the vehicle, it can be used to make loading easier. Note: if you need to access the ISOFIX ring and/or the net ring at the bottom of the boot, open flap 3. ...
Skoda Fabia. Brake assist systems
WARNING A lack of fuel can cause irregular engine running or cause the engine to shut down. The brake assist systems would then be without function – there is the risk of an accident. A ...
Honda Fit. Automatic Transmission
■Creeping The engine may run at a higher idle speed and creeping increases: • Immediately after the engine starts. • When the heating and cooling system is in use. Keep the brake pedal f ...