Nissan Micra: Seat belt warning light
Nissan Micra Owners Manual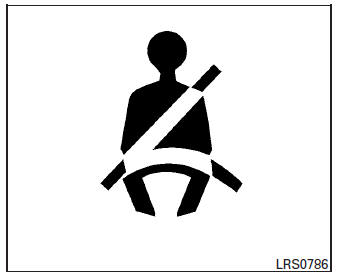 Both the driver's and passenger's front seats are equipped with a seat belt warning light. The warning light, located on the instrument panel, will show the status of the driver and passenger seat belt.
NOTE: The driver's and front passenger's seat belt warning light will not light up if the front passenger seat is not occupied. For additional information, refer to "Warning lights, indicator lights and audible reminders" in the "Instruments and controls" section of this manual.
Pregnant women
NISSAN recommends that pregnant women use seat belts. The seat belt should be worn snug and always position the lap belt as low as possible around the hips, not the waist. Place the shoulder belt over your shoulder and across your chest.
Never run the lap/shoulder belt over your abdominal area. Contact your doctor for specific recommendations.
Injured persons
NISSAN recommends that injured persons use seat belts. Check with your doctor for specific recommendations.
Other info:
Nissan Micra. Cleaning exterior
In order to maintain the appearance of your vehicle, it is important to take proper care of it. To protect the paint surfaces, please wash your vehicle as soon as you can: after a rainfall to ...
Seat Ibiza. Fitting a towing bracket
It is possible to fit a towing bracket to the rear of the vehicle. Fig. 123 Attachment points for towing bracket If a towing bracket is to be fitted after the vehicle is purchased, this must be ...
Nissan Micra. If your vehicle overheats
If your vehicle is overheating (indicated by a red high temperature warning light ), or if you feel a lack of engine power, detect abnormal noise, etc. take the following steps. WARNING ...