Peugeot 208: Identifi cation markings
Peugeot 208 Owners Manual
Various visible markings for the identification of your vehicle.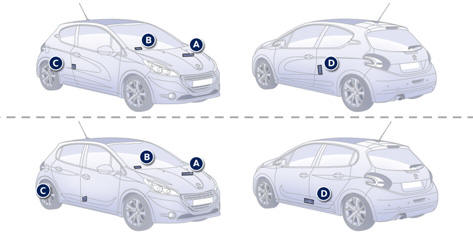 A. Vehicle Identification Number (VIN) under the bonnet. This number is engraved on the bodywork near the damper support.
B. Vehicle identification Number (VIN) on the windscreen lower crossmember. This number is indicated on a self-adhesive label which is visible through the windscreen.
C. Manufacturer's label. The VIN is indicated on a self-destroying label affixed to the middle pillar, on the passenger's side.
D. Tyre/paint label. This label is fitted to the middle pillar, on the driver's side.
It bears the following information:
- the tyre inflation pressures with and without load, - the wheel rim and tyre sizes, - the brands of tyre recommended by the manufacturer, - the inflation pressure of the spare wheel, - the paint colour code.
The tyre pressures must be checked when the tyres are cold, at least once a month.
Low tyre pressures increase fuel consumption.
Other info:
Honda Fit. Interior Care
Use a damp cloth with a mixture of mild detergent and warm water to remove dirt. Use a clean cloth to remove detergent residue. Do not spill liquids inside the vehicle. Electrical devices and ...
Fiat Punto. Instrument panel
ACTIVE, DYNAMIC versions Speedometer (speed indicator) Fuel level gauge with reserve warning light Engine coolant temperature gauge and excessive temperature warning light Rev counter ...
Chevrolet Sonic. Overview (Radio with Touchscreen)
1. VOL (Volume) Press to decrease or increase the volume. 2. (Power) Press and hold to turn the power on or off. 3. (Home Page) Press to go to the Home Page. See Home Page (Ra ...