Peugeot 208: Special position of the windscreen wipers
Peugeot 208 Owners Manual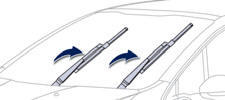 This position permits release of the windscreen wiper blades.
It is used for cleaning or replacement of the blades. It can also be useful, in winter, to detach the blades from the windscreen.
Any action on the wiper stalk in the minute after switching off the ignition places the blades vertically on the screen.
To park the blades again, switch on the ignition and operate the wiper stalk.
To maintain the effectiveness of the "flat-blade" type of wiper blades, it is advisable to:
- handle them with care, - clean them regularly using soapy water, - avoid using them to retain cardboard on the windscreen, - replace them at the first signs of wear.