Peugeot 208: Special position of the windscreen wipers
Peugeot 208 Owners Manual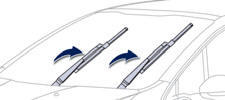 This position permits release of the windscreen wiper blades.
It is used for cleaning or replacement of the blades. It can also be useful, in winter, to detach the blades from the windscreen.
Any action on the wiper stalk in the minute after switching off the ignition places the blades vertically on the screen.
To park the blades again, switch on the ignition and operate the wiper stalk.
To maintain the effectiveness of the "flat-blade" type of wiper blades, it is advisable to:
- handle them with care, - clean them regularly using soapy water, - avoid using them to retain cardboard on the windscreen, - replace them at the first signs of wear.
Other info:
Peugeot 208. Warning lamps
When the engine is running or the vehicle is being driven, illumination of one of the following warning lamps indicates a fault which requires action on the part of the driver. Any fault resultin ...
Fiat Punto. How to warm up the engine after it has just started (petrol and diesel versions)
Proceed as follows: Drive off slowly, letting the engine turn at medium revs. Do not accelerate abruptly; Do not drive at full performance for the initial kilometres. Wait until the coolant ...
Chevrolet Sonic. Engine Heater
The engine heater can provide easier starting and better fuel economy during engine warm-up in cold weather conditions at or below −18°C (0°F). Vehicles with an engine heater should be plu ...