Seat Ibiza: Ignition lock
Seat Ibiza Owners Manual
Position of the ignition key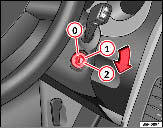 Fig. 100 Ignition key positions
Ignition switched off, steering lock

In the position ⇒ fig. 100 the ignition and the engine are OFF and the steering may be locked. For the Steering lock to operate without the ignition key, turn the steering wheel until it locks with an audible sound. You should always lock the steering wheel when you leave your vehicle. This will help prevent theft of the vehicle ⇒

.
Switching on the ignition or glow plug system

Turn the ignition key to this position and let go of the key. If the key cannot be turned or is difficult to turn from position

to position


, move the steering wheel (to take
the load off the steering lock mechanism) until the key turns freely.
Starting

The engine is started when the key is in this position. Electrical components with a high power consumption are switched off temporarily. Each time that the vehicle must be started, the ignition key must be turned to the position

. The repetitive start prevention
lock of the ignition prevents possible damage to the starter motor if the engine is already running.
WARNING
• Wait for the vehicle to come to a standstill before removing the ignition key from the lock. The steering lock could be activated immediately - Risk of accident!
• Always remove the key from the ignition lock when leaving the vehicle, even if you only intend to be gone for a short period. This is especially important if you must leave children or disabled people in the vehicle, they could accidentally start the engine or work electrical equipment such as the windows possibly resulting in an accident.
• Unsupervised use of the keys could result in the engine being started or electrical systems, such as the electric windows, being used. This can result in serious injury.

Caution
The starter motor will only work when the engine is stopped (ignition key position

).
Electronic immobiliser
The immobiliser prevents unauthorised persons from driving the vehicle. Inside the key there is a chip that deactivates the electronic immobiliser automatically when the key is inserted into the ignition. The immobiliser will be activated again automatically as soon as you pull the key out of the ignition lock. The engine can only be started using a genuine SEAT key with the correct code.

Note
The vehicle cannot be operated properly if you do not have a genuine SEAT key.