Skoda Fabia: Checking the battery electrolyte level
Skoda Fabia Owners Manual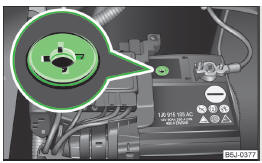 Fig. 132 Vehicle battery: Electrolyte level indicator
On vehicles with a vehicle battery fitted with a colour indicator » Fig. 132, the electrolyte level can be determined by looking at the change in colour.
Air bubbles can influence the colour of the indicator. For this reason carefully knock on the indicator before carrying out the check.
Black colour - electrolyte level is correct.
Colourless or light yellow colour - electrolyte level too low, the battery must be replaced.
Vehicles with a START-STOP system are fitted with a battery control unit for checking the energy level for the recurring engine start.
We recommend you have the electrolyte level checked by a specialist garage from time to time, especially in the following cases.
High external temperatures.
Longer day trips.
After each charge.
Winter time
The vehicle battery only has some of its starting power at low temperatures. A discharged vehicle battery may freeze at temperatures just below 0 °C.
We therefore recommend that you have the battery checked and, if necessary, recharged by a specialist garage before the start of the winter.
CAUTION
For technical reasons, on vehicles with the description "AGM", the electrolyte level cannot be checked.
Note
The battery electrolyte level is also periodically checked by a specialist garage as part of the Inspection Service.
Other info:
Skoda Fabia. Fuel
The correct grades of fuel for your vehicle are stated on a sticker affixed to the inside of the fuel filler flap » Fig. 123 on page 137 - B. WARNING The national legal requirements must be obse ...
Peugeot 208. Gear shift indicator
Operation The system intervenes only when driving economically. Depending on the driving situation and your vehicle's equipment, the system may advise you to skip one or more gears. You can fo ...
Nissan Micra. Power outlet
The power outlet is for powering electrical accessories such as cellular telephones. The outlet is rated at 12 volt, 120W (10A) maximum. CAUTION The outlet and plug may be hot during ...