Skoda Fabia: Checking the battery electrolyte level
Skoda Fabia Owners Manual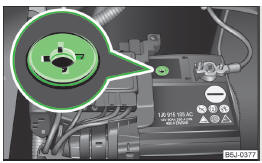 Fig. 132 Vehicle battery: Electrolyte level indicator
On vehicles with a vehicle battery fitted with a colour indicator » Fig. 132, the electrolyte level can be determined by looking at the change in colour.
Air bubbles can influence the colour of the indicator. For this reason carefully knock on the indicator before carrying out the check.
Black colour - electrolyte level is correct.
Colourless or light yellow colour - electrolyte level too low, the battery must be replaced.
Vehicles with a START-STOP system are fitted with a battery control unit for checking the energy level for the recurring engine start.
We recommend you have the electrolyte level checked by a specialist garage from time to time, especially in the following cases.
High external temperatures.
Longer day trips.
After each charge.
Winter time
The vehicle battery only has some of its starting power at low temperatures. A discharged vehicle battery may freeze at temperatures just below 0 °C.
We therefore recommend that you have the battery checked and, if necessary, recharged by a specialist garage before the start of the winter.
CAUTION
For technical reasons, on vehicles with the description "AGM", the electrolyte level cannot be checked.
Note
The battery electrolyte level is also periodically checked by a specialist garage as part of the Inspection Service.
Other info:
Peugeot 208. Folding the backrest
Move the corresponding front seat forward if necessary. Check that the corresponding seat belt is positioned correctly against the backrest and buckle it. Place the head restraints in the ...
Citroen C3. USB reader
This connection box, consisting of a JACK socket and a USB port, is located on the centre console. It permits the connection of portable equipment, such as a digital audio player of the iPo ...
Renault Clio. Rear screen wash/wipe
Speed-dependent timed rear screen wiper With the ignition on, turn the end of stalk 1 to align mark 2 with the symbol. Wiping frequency varies with speed. When working in the engin ...