Skoda Fabia: Heating
Skoda Fabia Owners Manual
Operation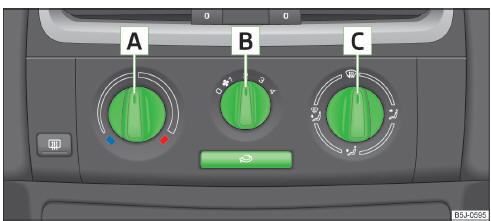 Fig. 95 Heating: Control elements
Functions of the individual controls » Fig. 95:
Set the temperature (turn to the left: to reduce the temperature, turn to the right: to increase the temperature)
Set the blower level (level 0: blower off, level 4: the highest blower speed)
Set the direction of the air outlet » page 86

Switch recirculation on/off »
page 88
Controls A and C » Fig. 95 can be set to any intermediate position.
WARNING
The blower should always be on to prevent the windows from misting up.
Setting
Recommended basic settings of the heating controls.

We recommend that you leave the air outlet vents 3 » Fig. 94 on page 86 in the open position in all operating modes.
Note
If the air distribution is directed only towards the windows, the total amount of air is used to defrost the windows and thus no air will be fed to the footwell.
This can limit the heating comfort.
Recirculated air mode
Recirculated air mode prevents polluted air from outside the vehicle getting into the vehicle, for example when driving through a tunnel or when standing in a traffic jam.
Switching on/off
Press the button.


The indicator light in the button lights up.
Press the button again.


The indicator light in the button goes out.
Recirculated air mode is switched off automatically if the air distribution control C » Fig. 95 on page 87 is turned to the

position. Recirculated air mode
can be switched on again from this setting by pressing the

button again.
WARNING
Never leave recirculated air mode on over a longer period, as "stale air" can cause fatigue in the driver and the passengers, reduce attention levels and also cause the windows to mist up. The risk of having an accident increases.
Switch off recirculated air mode as soon as the windows start to mist up.