Chevrolet Sonic: Engine Heater
Chevrolet Sonic Owners Manual
The engine heater can provide easier starting and better fuel economy during engine warm-up in cold weather conditions at or below −18°C (0°F). Vehicles with an engine heater should be plugged in at least four hours before starting.
1. Turn off the engine.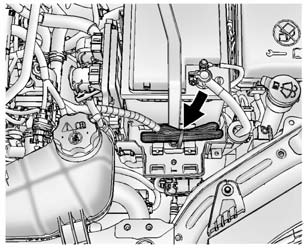 2. Open the hood and unwrap the electrical cord. The cord is located in the driver side of the engine compartment, near the battery. It is shipped from the factory with a tie holding it in place. Use care in removing the tie so that the cord is not damaged.
3. Plug it into a normal, grounded 110-volt AC outlet.
Warning
Plugging the cord into an ungrounded outlet could cause an electrical shock. Also, the wrong kind of extension cord could overheat and cause a fire. You could be seriously injured. Plug the cord into a properly grounded three-prong 110-volt AC outlet. If the cord will not reach, use a heavy-duty three-prong extension cord rated for at least 15 amps.
4. Before starting the engine, be sure to unplug and store the cord as it was before to keep it away from moving engine parts. If you do not it could be damaged.
The length of time the heater should remain plugged in depends on several factors. Ask a dealer in the area where you will be parking the vehicle for the best advice on this.
Other info:
Honda Fit. If the Charging System Indicator Comes On
■ Reasons for the indicator to come on Comes on when the battery is not being charged. ■ What to do when the indicator comes on Turn off the heating and cooling* system, rear defogg ...
Skoda Fabia. Head restraints
Adjusting the head restraints Fig. 59 Head restraint: adjusting/removing Setting the height Grasp the side of the head restraint with both hands and push it upwards as required » Fig. ...
Chevrolet Sonic. Luggage/Load Locations
Load Compartment (Hatchback) The load compartment cover can be used to conceal objects under it or removed and placed on the bottom of the load compartment to carry larger loads. To remove the loa ...