Chevrolet Sonic: Rear Safety Belt Comfort Guides
Chevrolet Sonic Owners Manual
Rear safety belt comfort guides may provide added safety belt comfort for older children who have outgrown booster seats and for some adults. When installed on a shoulder belt, the comfort guide positions the shoulder belt away from the neck and head.
Safety belt comfort guides are available through your dealer.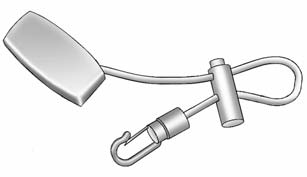 To install the adjustable comfort guide to the seatback and the safety belt: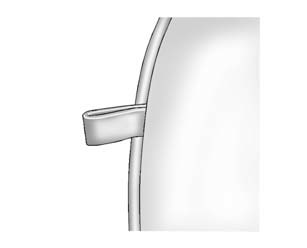 1. Locate the anchor loop on the rear outboard seatback, near the top.
2. Attach the adjustable comfort guide to the anchor loop by threading the hook through the loop.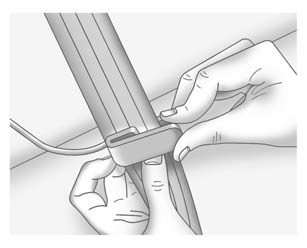 3. Place the guide over the belt, and insert the two edges of the belt into the slots of the guide.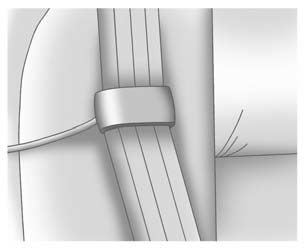 4. Be sure that the belt is not twisted and it lies flat. The elastic cord must be under the belt and the guide on top.
5. The elastic cord on the comfort guide is adjustable. You can make it longer or shorter by squeezing both ends of the plastic adjuster and pulling on the elastic cord or the guide.
6. Adjust the guide so the shoulder portion of the belt is on the shoulder and not falling off of it. The belt should be close to, but not contacting, the neck. Improper comfort guide adjustment could reduce the effectiveness of the safety belt in a crash.
Warning
A safety belt that is not properly worn may not provide the protection needed in a crash. The person wearing the belt could be seriously injured. The shoulder belt should go over the shoulder and across the chest. These parts of the body are best able to take belt restraining forces.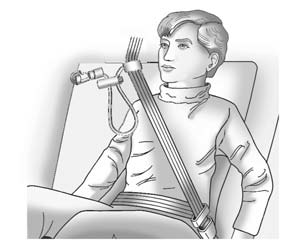 7. Buckle and position the safety belt as described previously in this section. Make sure that the shoulder belt crosses the shoulder.
To remove and store the comfort guide, squeeze the belt edges together so that the safety belt can be removed from the guide. Un-hook the guide from the loop on the seat. Store the guide in a convenient place like the glove box for the next time it is needed.
Other info:
Nissan Micra. Air conditioner operation (if so equipped)
Start the engine, turn the fan control dial to the desired position and press the button to activate the air conditioner. When the air conditioner is on, cooling and dehumidifying functions are ad ...
Renault Clio. Use
Unlocking the doors and tailgate Press button 1. The hazard warning lights flash once to indicate that the doors have been unlocked. When unlocking the driver's door only is activated: ...
Peugeot 208. Manual mode
When the vehicle has moved off, select position M to change to manual mode. - Pull the lever towards the + sign to change up a gear. - Push the lever towards the - sign to change down a gear. The ...