Chevrolet Sonic: Steering Wheel Controls
Chevrolet Sonic Owners Manual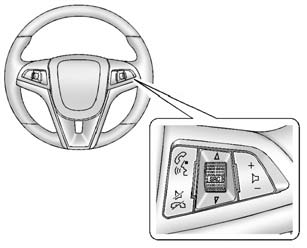 Some audio steering wheel controls could differ depending on the vehicle's options. Some audio controls can be adjusted at the steering wheel.

/


(Push to Talk): For
vehicles with Bluetooth or OnStar, press to interact with those systems. See Bluetooth (Voice Recognition) or Bluetooth (Overview) or Bluetooth (Infotainment Controls) or OnStar Overview.

/


(Mute/End Call): Press to reject an
incoming call, or end a current call. Press to silence the vehicle speakers while using the infotainment system. Press again to turn the sound on.
For vehicles with OnStar or Bluetooth systems, press to reject an incoming call, or end a current call.

SRC


(Source): Press to select an audio
source.
Use to toggle up or down to select the next or previous favorite radio station or CD/MP3 track.

(Volume): Press + or − to increase
or decrease the volume.
Other info:
Nissan Micra. When traveling or registering in another country
When planning to drive your NISSAN vehicle in another country, you should first find out if the fuel available is suitable for your vehicle's engine. Using fuel with an octane rating that is t ...
Seat Ibiza. Handbrake
Using the handbrake The handbrake should be applied firmly to prevent the vehicle from accidentally rolling away. Fig. 105 Handbrake between the front seats Always apply the handbrake when you ...
Skoda Fabia. Voice control
Dialogue The period of time during which the system is ready to receive voice commands and to carry them out is called a dialogue. The system gives audible feedback and guides you if necessary thro ...